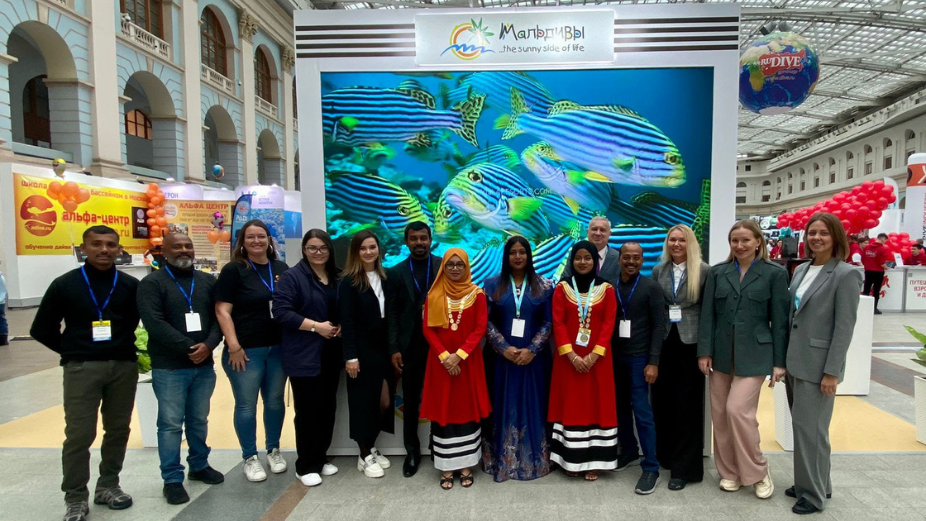 Maldives Marketing and Public Relations Corporation (MMPRC / Visit Maldives) returned to the Moscow Dive Show for the third year, showcasing the variety of beautiful seascapes and underwater experiences in the Maldives. The event was held from 9th to 12th February in the "Gostinyi Dvor" Exhibition Centre, Moscow, Russia.
The Moscow Dive Show is the leading exhibition in Russia and Eastern Europe for watersports, diving and other marine activities. The fair showcases the latest offerings and collaborations in the diving, spearfishing, freediving, and underwater photography industries. The event provides excellent business opportunities for B2B and B2C market professionals, with access to qualified and relevant travel buyers, influencers, and market professionals.
MMPRC is joined at this event by 6 co-exhibitors at the fair. The industry partners showcased the unique variety of water sports activities and adventures awaiting tourists in the Maldives. While at the Moscow Dive Show, co-exhibitors also had the opportunity to connect with businesses that produce relevant equipment, experience their products, create activity outlines, and participate in water sports training. By participating in the exhibition, MMPRC aims to solidify the Maldives' reputation as a premier destination for diving and water sports and increase its visibility in the Russian and CIS market.
Participation in this fair comes under MMPRCs' destination marketing efforts for the market. Russia was the second largest source market for the Maldives in 2022, with a total arrival figure of 201,954 tourists. So far in 2023, over 28,000 tourists have arrived from Russia, positioning the market as the largest source market at the moment. MMPRC conducted 16 high-profile advertising campaigns targeting Russia last year, with several exciting activities and campaigns for this market in the pipeline for 2023.