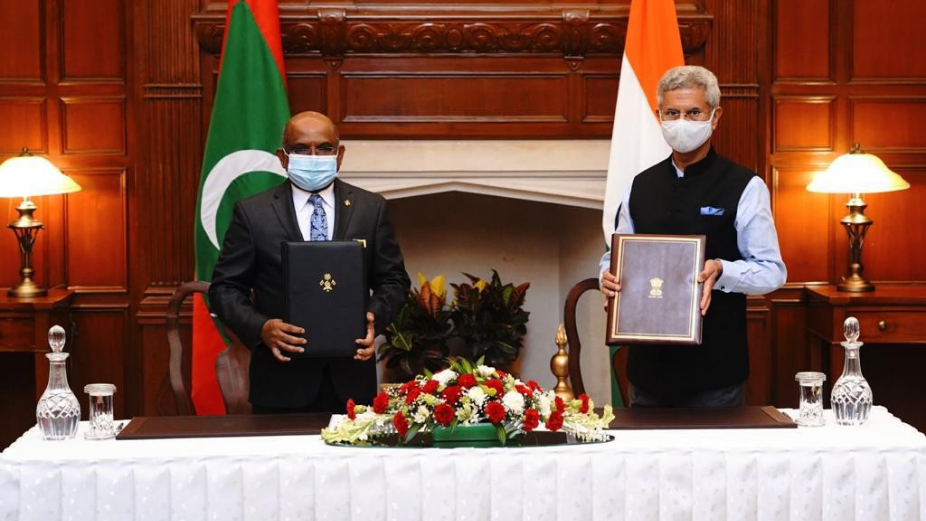 MVR 5.49 million has been released to Government of Maldives to commence mobilization work on 8 new High Impact Grant Projects in Maldives. MoUs to implement these projects were concluded on 21 October, 2021. Local Island Councils will execute these projects, included under the additional grant of MVR 70 million sanctioned in July 2021.
These 8 projects, with a total cost of MVR 36.5 million, are spread across 7 Atolls of the Maldives – Thaa, Laamu, Haa Alif, Noonu, Kaafu, Alif Dhaalu, Gaafu Dhaalu. They include – installation of Street Lights in Th. Thimarafushi and Th. Veymandoo, setting up of an ice plant in L. Maabaidhoo, construction of a new Cultural Centre in ADh. Dhangethi, construction of N. Miladhoo Council Building, Strengthening Inclusive Education Support Units at Aboobakuru School (GDh. Thinadhoo), Ihadhdhoo School (L. Gan) and Atoll Education Centre (HA. Dhidhdhoo), acquisition of sea ambulances for the MNDF and the upgrade of Olympus theatre in Male'.
Local authorities and Island Councils are currently implementing 12 High Impact projects across Maldives under MVR 85 million grant extended in March 2019. India has also extended a cash grant of MVR 106 million under which 18 developmental projects were taken up for implementation. Of these 30 grant projects, 16 have been completed.
High Impact grant projects constitute an important dimension of the vibrant India-Maldives development partnership. These projects are tailored to suit the requirements of local island communities. They are an effective tool to empower Local Councils that are vested with the responsibility to implement them. These projects, thus, help augment the participation of Councils in the overall social-economic development of the islands.