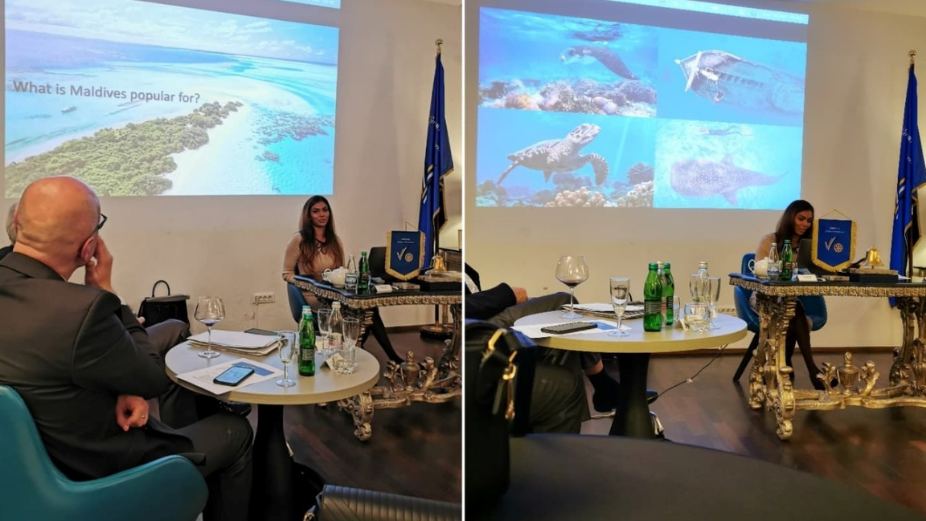 Moji Maldivi in association with MMPRC recently conducted an exclusive educational lecture about the Maldives in a seminar held by Rotary Club Ljubljana International.
The Managing Director of Moji Maldivi, Aishath Nuzuha was the guest speaker at this monthly gathering at the Rotary Club where she also presented the lecture. During her lecture, she talked about the latest information and developments of the destination related to tourism as well as the culture and economy in the field of community and tourism industry as a whole.
Rotary Club is a global network consisting of 1.4 million individuals. Members of the Rotary club are professors, diplomats, doctors, businessmen, artists, specialists and other prominent Slovenes as well as foreigners. Characteristics of the club are thinking, quick response, looking to the future, servitude to others, and new original and sustainable solutions. The Rotary clubs meet monthly or quarterly where they discuss club business and listen to guest speakers. They conduct club activities, social events, and volunteer projects offering networking opportunities that build personal and professional connections, and can extend those networks by visiting other clubs around the globe as well.
Moji Maldivi is a subsidiary of SEE Marketing, a PR firm based in Ljubljana, Slovenia, providing services in travel and recruitment to the South East Europe region. It was co-founded by the hardworking female entrepreneur, Ms. Aishath Nuzuha, whose sheer determination it is to promote her country and uplift the brand and its pristine beauty to the South European Market.
Moji Maldivi deems that Southern Mediterranean Europe (SME), Central Eastern Europe (CEE) and North Western Europe are potential source markets to Maldives, and that with serious emphasis on promotion and marketing, these markets can be lured to the Maldives.