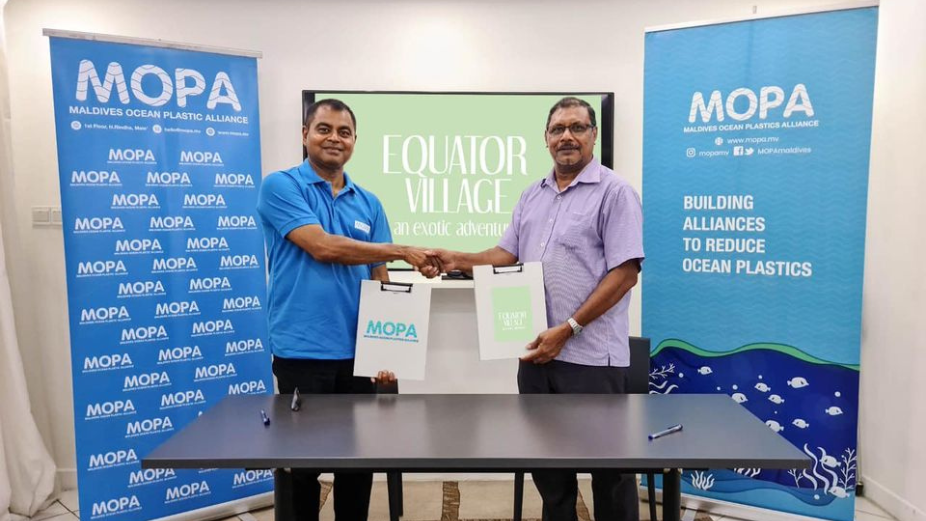 The Maldives Ocean Plastics Alliance (MOPA) and its partners have expanded the NGO's flagship PET collection project to Addu City, the southernmost and the second most populous atoll in the Maldives.
Launched on December 10, 2020, the Plastic Reverse Logistics Project involves a strong partnership with Male' Aerated Water Company Limited (bottlers of 'Coca-Cola' beverages), Happy Market Private Limited (bottlers of 'Life' mineralised water) and Island Beverages Maldives (bottlers of 'Taza' mineralised water) who are voluntarily implementing Extended Producer Responsibility (EPR) in the Maldives to give a new life to the 100% recyclable and versatile PET.
The project began with daily collection of used PET bottles – all 100% recyclable and has inherent value to the Maldives' economy – from 263 retail outlets, including eateries, restaurants and cafés in the Greater Male' area. Since its inception in about two years, the PET Reverse Logistics Project has so far resulted in the collection of over 65,000 kg of PET.
In August 2022, MOPA and Addu City Council signed a Memorandum of Understanding (MoU) to bring the PET Reverse Logistics Project to Addu City, paving the way to work towards the mutual goal of combating ocean plastics. Over 50% of the eateries in Addu have been enrolled in the project.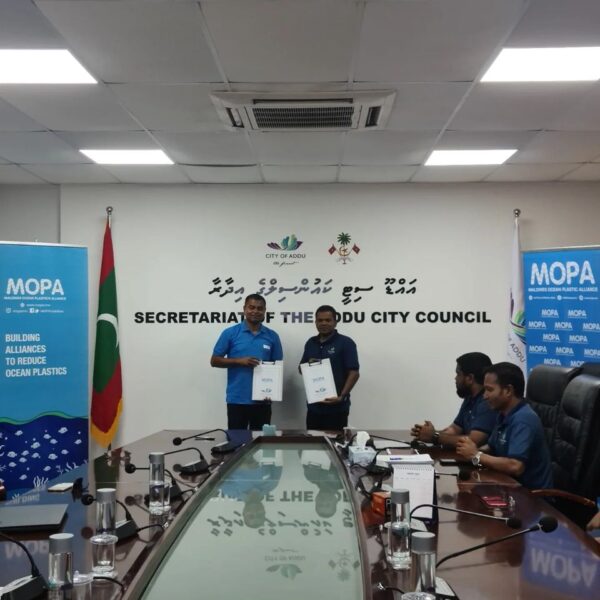 "I would like to thank the members of Addu City Council and our partners for their vision and commitment to supporting us in our efforts to reduce ocean plastics in the Maldives. Collaborative efforts such as these are vital to create a circular economy around PET and achieve a more sustainable future," says Mr. Thoriq Ibrahim, MOPA Founder and President.
The expansion of the PET Reverse Logistics Project to Addu City is primarily supported by Male' Aerated Water Company which serves as the collection partner. In addition to PET collection, the project also advocates behavioural changes in PET consumption, disposal, collection, and recycling which will be shared in community-based programmes to raise awareness of the far-reaching benefits of waste segregation and management.
"We are delighted to expand our partnership with MOPA and continue to support their result-oriented approach to tackling plastic pollution. We will continue to explore all avenues to create a circular economy around PET packaging to effectively address plastic pollution," says Mr. Sanjay Maniku, Managing Director of Malé Aerated Water Company.
The collected PET bottles – the most widely recycled plastic in the world – are transported to the capital Male' and handed over to Parley Maldives to be recycled and upcycled into everyday items like branded footwear, swimwear and garments. This national multi-stakeholder partnership project brings together companies with a common vision to create a circular economy for plastic and a better-shared future that makes a difference in people's lives, communities and our planet.
The Plastic Reverse Logistics Project is one of three key collection initiatives led by MOPA and supported by partners including Male' Aerated Water Company, Island Beverages Maldives Pvt. Ltd. and International Beverages Company Pvt. Ltd. As a second initiative, the Island PET Collection Project has expanded the collection to outer atolls, with active operations now in three islands. The latest to launch is the Resort PET Collection Project, which further expanded the collection initiatives to include the resort islands across the archipelago.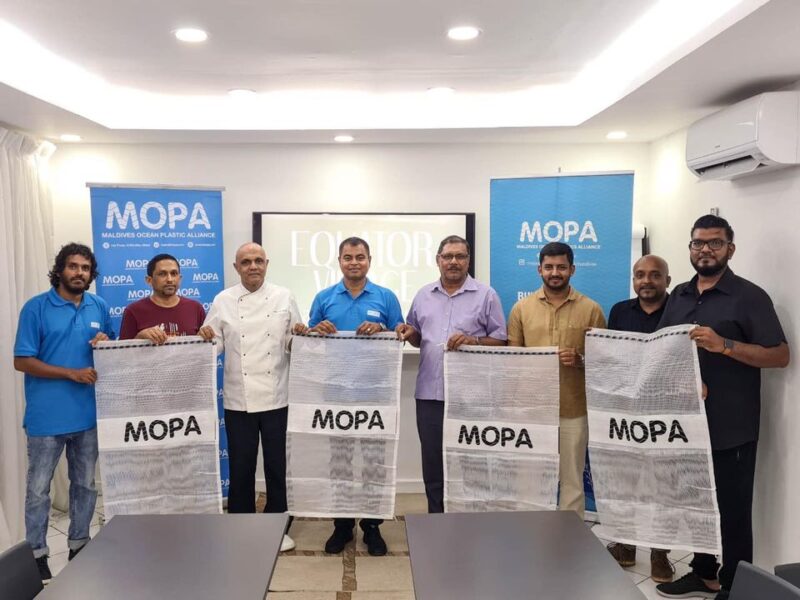 "Island Beverages Maldives has a long-standing commitment to doing business the right way. We are glad to be working with partners like MOPA to build a better and more sustainable future together. By striving to conduct business ethically, we are dedicated to improving people's lives, communities, and our environment," says Mr. Ibrahim Anwar, Managing Director of Island Beverages Maldives.
"At International Beverages Company Pvt. Ltd., we care about the environment. We acknowledge the responsibility we have as a producer of PET products to lessen and prevent our products from ending up in the seas. We are dedicated to working with partners like MOPA and being part of the solution," adds Dr. Ali Ihusaan, CEO of International Beverages Company's parent company Happy Market.