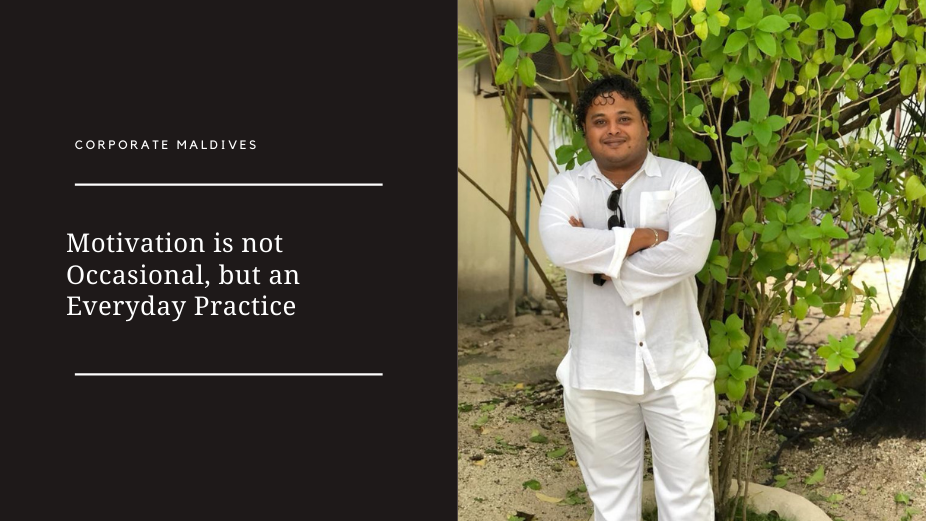 Written by: Ismail Shahid
Motivating employees seems like it should be an easy everyday job. Theoretically, it is. But while the perception of motivation may be upfront, motivating employees in the Hospitality Industry is far more challenging. Our employees are serving guests from all around the world where every little service is counted. As leaders, we're asked to understand what motivates everyone on your team and succeed with them accordingly, mostly those with large or dispersed teams and those who are already overwhelmed by their own workloads. 
Leaders are also encouraged to rely on the carrot versus stick style for motivation, where the carrot is a reward for compliance and the stick is a consequence for noncompliance. But when our sole task as leaders becomes compliance, trying to oblige others to do something, chances are the leaders will be the only ones who will be motivated.
"We have to remember that employees are people first." 
"If we only treat them as work units, they will feel devalued, rather You can say, 'Thank you for your good sense of humor. It really helped keep the team going during a stressful week.
The connection of what to do, what they are good at and what would benefit the organization is where you start matching the employee to impactful initiatives that they are well-suited for.
Can we try on other methods? The concept of employee motivation is less about employees doing prodigious work and more about employees feeling great about their work. The better employees feel about their work, the more motivated they remain over time. When we step away from the traditional carrot or stick to motivate employees, we can engage in a new and meaningful discourse about the work instead.
"If you do your job day in and day out, and you never hear anything about it, you'll start to question the value of what you're doing." 
Leaders must carefully monitor the amount of attention and direction they give employees. Micromanagement is a motivation killer. On the flip side, not paying enough attention to employees can be demotivating, too.
Share context and provide relevance.  
There is no stronger motivation for employees than an understanding that their work matters and is relevant to someone or something other than a financial statement. To motivate your employees, start by sharing context about the work you're asking them to do. What are we doing as an organization and as a team? Why are we doing it? Who benefits from our work and how? What does success look like for our team and for each employee? What role does each employee play in delivering on that promise? Employees are motivated when their work has relevance.
Recognize contributions and show appreciation.  
As appealing as it is to attempt to influence employee satisfaction with various techniques, it isn't necessary for sustained motivation. Far more powerful is your commitment to recognizing and acknowledging contributions so that employees feel appreciated and valued. Try to help a colleague or meet a deadline? Who has provided great service or support to a customer in crisis? Who "walked the talk" on your values in a way that sets an example for others and warrants recognition? Employees are motivated when they feel appreciated and recognized for their contributions.
Check in to assess your own motivation.  
What if you've done all the above but are still struggling to motivate others? You may need to assess your own motivation. Employees are very attuned to whether leaders have a genuine connection to the work. If you're not engaged and enthusiastic about your company, your team, or the work you do, it's unlikely that you'll be a great motivator of others. What aspects of your role do you enjoy? What makes you proud to lead your team? What impact can you and your team have on others both inside and outside the organization? How can you adapt your role to increase your energy and enthusiasm? Employees feel motivated when their leaders are motivated.
Don't rely on outdated methods and tricks to motivate employees.  
Talk with your team about the relevance of the work they do every day. Be proactive in identifying and solving problems for your employees. Recognize employee contributions in specific, meaningful ways on a regular basis. Connect with your own motivation and share it freely with your team. Put away bigger words and have meaningful conversations instead. You'll be well on your way to leading a highly motivated team.
"A leader is one who knows the way, goes the way and shows the way." 
About the author: Ismail Shahid, commonly known as SHAAD, is currently the Human Resources Manager at Atmosphere Kanifushi. He has 12 years of experience in the hospitality industry, having worked with leading resorts such as Sheraton Maldives, Amillafushi, Soneva and Bandos Maldives.