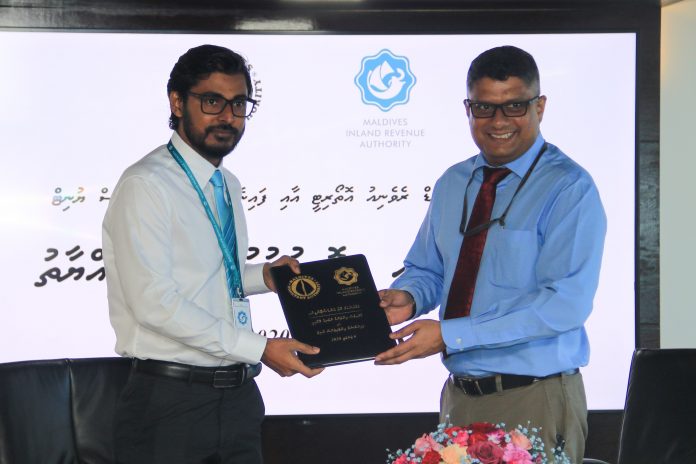 An MOU signing ceremony was held between the Maldives Inland Revenue Authority (MIRA) and the Financial Intelligence Unit (FIU) of Maldives Monetary Authority (MMA).
Head of FIU, Mr. Ibrahim Ahmed Nasir signed alongside the Commissioner General of Taxation, Mr. Fathuhulla Jameel.
Under the MOU, the two institutions will be exchanging information that are important for the better execution of laws within their mandate.
Financial Intelligence Unit (FIU) is an operationally independent Unit mandated and established by Law No. 10/2014 (Prevention of Money Laundering and Financing of Terrorism Act) within Maldives Monetary Authority. FIU is the central national agency for receiving, analysing and disseminating information concerning money laundering activities, terrorism financing activities and proceeds of crime.
The main function of FIU is to receive financial transaction reports from various reporting institutions, analyse them and, as appropriate, disseminate valuable financial information to law enforcement agencies and regulatory authorities.
FIU is responsible for coordinating and strengthening efforts of national and international stakeholders in pursuing the global efforts against money laundering and terrorism financing.