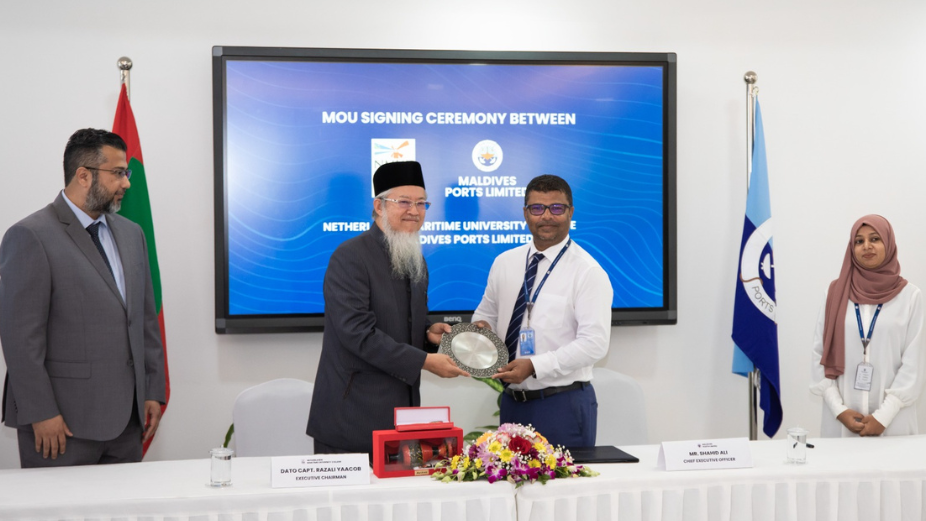 Maldives Ports Limited (MPL) has signed an MOU with Malaysia's Netherlands Maritime University College (NMUC) to offer education and training opportunities to its employees.
MPL CEO Shahid Ali signed the MOU on behalf of MPL at a ceremony held at the head office today, while NMUC Executive Chairman Dato' Captain Razali Yaacob signed the agreement on behalf of the university.
According to the MOU, MPL employees will have the chance to pursue studies in various fields, ranging from foundation to master's degrees. Additionally, MPL employees will be able to participate in short-term training programs. The two parties will also collaborate on consultancy projects related to personnel development, education, and training.
During the ceremony, MPL CEO Shahid stated that the MOU represents a significant step forward in MPL's efforts to develop human resources in the maritime port sector.
"Every year, six employees of this company will have the opportunity to pursue higher education in various port-related fields. Furthermore, short-term training will also be provided to the employees," Shahid explained.
NMUC Chairman Dato' Captain Razali expressed that today marks the beginning of a "strong relationship" and emphasized that the MOU will provide MPL employees with practical work experience in addition to their education.
"Malaysia has excellent port facilities. By combining our practical experience in the port sector with university graduates' education, we aim to provide them with practical work experiences. Our goal is to collaborate and work for mutual benefit," Dato' Captain Razali said.