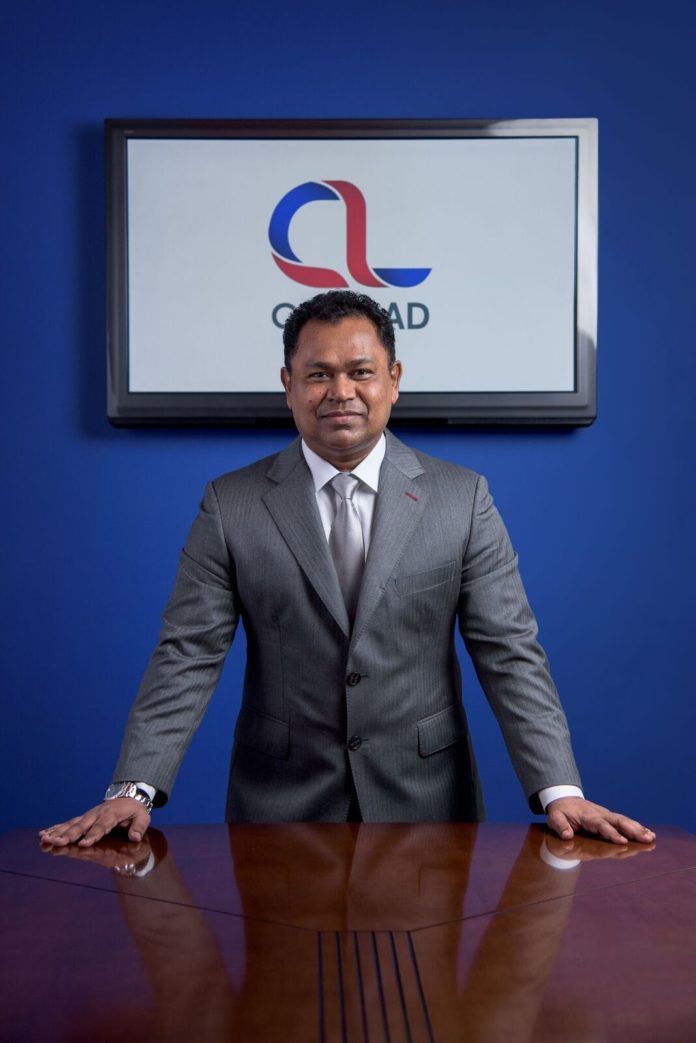 Mr. Abbas Mohamed began his enterprises in the year 1986 with the inception of his company, Co-Load Maldives Pvt. Ltd. where its first line of business was in cargo clearance involving sea and air cargo.   
Abbas Mohamed is the second eldest from a family of 5 siblings, built from the ground up literally, by his strong willed and inspirational mother. Coming from a humble beginning with a modest background, Abbas has a sheer driving force for success. He is also the output of extreme hard work, perseverance in face of adversity and belief in the Almighty Allah. Abbas has always had a strong urge to be a champion in whatever he does, and notes that the continuous support and help he receives from his wife throughout his journey.
How did you get started ?
I started my career in government service in the airline industry with Air Maldives. It was an eye opener for me to learn commercial activities and to work with people from different walks of life; both local and international. I then ventured into private business by starting freight forwarding and export of dried fish to Sri Lanka. Then I began importing and distributing Raleigh bicycles from the UK, Macpherson/Crown and Akzo Nobel paints from Europe. Subsequently, I expanded the business by investing into the aviation industry by becoming the General Sales Agent for Maskargo of Malaysian Airlines and some other prominent airlines. I also ventured into real estate market as well as the education industry; Maldives Business School is today a recognized college in the country. My big move into retail recently is with the opening of the Ace Hardware franchise outlets from the US.
What would you consider as successes ?
Success can be defined in many ways. You do not necessarily have to be a successful businessman to be a success story. If you are living an honest, decent life and adding value to the society in any field, is considered a success story in my books.
Among my successes, I am very proud to have been able to bring a lot of changes to the retail landscape of the country.
I had the courage to import Raleigh modern bicycles direct from the UK to the Maldivian market in the early 1990's, against the advices I was given stating that the venture will not work because of the high prices. But it turned out to be a huge success creating the first one stop shop for bikes and other categories in town. The move to introduce UK brand Macpherson and Crown paints in 1994 was a similar challenge. Today we are the benchmark leaders setting standards in the paint market; with our "Colorbank" stores.
Retail industry again evolved nationwide to a whole new level with the introduction of Ace Hardware of USA to the Country, which is the biggest home improvement franchise in the world and the 6th largest hardware franchise in the World.
It is indeed such a privilege today to know that everyone from all walks of life enjoys world class products at affordable prices with great customer service and ambience in our stores. I believe this has created a climate of healthy competition in the trade market offering better value and services to the community. You all will notice new big stores popping up and others racing to keep up with the competition. For certain the franchise market has grown exponentially since then. It is certainly a proud feeling to note that today even women feel much at ease shopping in hardware stores.
My desire to contribute towards building and fostering an educated society helped propel Maldives Business School to become the prestigious institution it is today.
It's a huge success and an honor and privilege to receive the Nations award for the development of the Economic sector and Enterprise Development in 2015 by the President of Maldives.
It's also a success and an honour to receive the Gold 100 Award for two years in a row 2016 , 2017 by Corporate Maldives , an Independent firm recognising the best 100  Companies of Maldives.
Tell us about some of the most notable challenges you faced.
Challenges are the essence of life. Without challenges there is no excitement to life. It is overcoming these challenges that creates the great success stories.
We similarly faces several challenges every day. One of the most critical and continuous obstacles is the inability to get local expertise to fill the various roles in our company and being forced to resort to foreign employees. This has the most undesirable negative impact in the community with the expansion of the expat community that continues to fill in the roles of the locals in the employment market.
What do you do differently compared to other businessmen?
I am a believer in class; providing the highest of quality. Whatever you do, do it differently. Try totally different products, services and approaches and go for it. You will find ways to succeed. It all starts in your mind. It is essentially a mind game. When you do things differently, people admire you. That is the difference between the existing and the innovator.
What is your advice for the young MD's and your hopes for the future?
Be patient, focused and unwavering in your desire to succeed. Remember nothing comes easily.
Our beloved nation is a gold mine. I have grand plans in the pipeline that I believe will bring further innovation to the country again. I foresee the Maldives becoming an economic powerhouse in the region. It is just a matter of time. Investment banks powering micro and macro investments will be key to making this happen. I am a proud Maldivian steadfast in this belief and determined to be a pivotal cornerstone in the success story of this great nation.