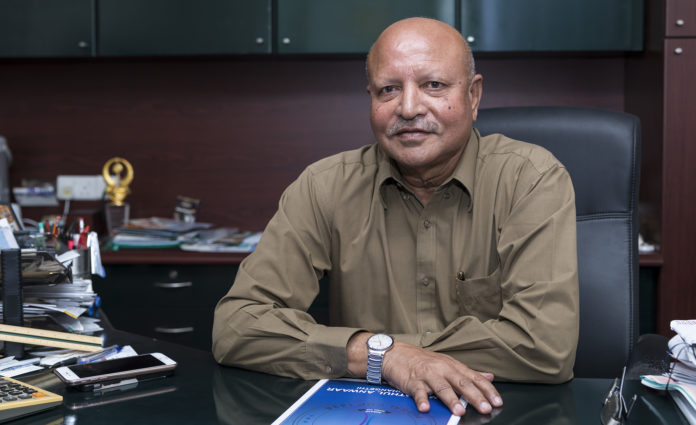 Mr Abdulla Mohamed is the Managing Director of Amin Construction, one of the leading construction and harbour works company in the Maldives.
Started off in 1989, Amin construction has built a strong reputation for delivering quality services, on time and at a competitive price.
How did you get started?
I started in the smallest way possible. All I had when I began was a saw and a chisel. To help me out with some things that required an additional pair of hands I had a helper but most things I did myself. While working like this I also collaborated with some people at a workshop called Reliable Engineers and got some additional income that way. This was a very educational time for me as I learned many different types of skills working with them, such as roof tiling, ceiling work, plumbing and even tiling. I picked up all sorts of skills working with them. About then I started bidding on small tenders. Even one or two million Rufiyaa projects were a huge deal back then. Gradually I started getting some good projects. There were also Government projects but there was no bidding for it back in those days. Instead, the Government would specify a rate for a specific task; for example, there'll be a specific rate for tiling per square feet or masonry work. Sometimes we would have to provide just manpower for the labour work, and other times we have to procure the materials also.
As I recall, Felivaru upgrading project was one of the first big projects I accepted. I only had to do some parts of the project but I think they really noticed my speed and the quality of my work. Through that project, I was able to gain access to do some work on the airport construction projects that were going on in the islands, such as staff area and VIP lounge in Kahdhoo airport. Most of the work in Hanimaadhoo airport was also done by me. Sometimes it got overwhelming since I was juggling several projects at once, but it was a challenge and I always went ahead with it since I had a lot of confidence that it was possible if managed well. Among the other big projects I took on simultaneously during those days included the 4-storey school project in Kandholhudhoo, and the Northern Regional Secondary School in Kuludhuffushi. I actually won the bid for the latter while the 4-storey school was under construction in Kandholhudhoo. Many well-meaning people, including friends and family, advised me against taking on too many projects because it would be impossible to meet the deadlines. I was, of course, very concerned but with good management, I finished both on time. The Education Ministry was very happy that I handed over the finished building way before the due date. The STELCO head office, which was finished within 7 months, was also a huge project that posed some very difficult challenges but I worked on it 24/7 and got it done before the deadline. There were a lot of others. Throughout the journey, we got into the hospitality industry and were the developers and contractor for a resort which we later sold after we completed it. We are working on very ambitious hospitality industry projects taking the role of a developer as at now. We have also completed several real estate projects; that is actually one of our most commercially successful projects. As you can see, even though I had humble beginnings, we have done very well as a company and I have passed on the responsibilities and business developments to my children and that's my biggest achievement.
When did you develop an interest in pursuing this specific industry?
Truthfully, I don't know why exactly I ended up in this line of work. I did not really plan on it but in hindsight, I realize I might have done in subconsciously as it is something of a family business since my father was a carpenter and Mason. When I first came to Male' from Alif Dhaalu Dhihdhoo, I focused on finishing my studies first and then joined the Government. My first job was at an office called Pension and Religious Affairs. I was there for about three or four months when I transferred to the Property Claims Office. From there I kept moving from job to job in the Government, managing to get certified as a "Maalimee" (Captain of seafaring vessels) at one point and operated a cargo boat between Male' and Sri Lanka for a while. I also opened a shop, catering to the resort market and selling wholesale. All that time I had no plans to go into the construction industry but eventually, I found myself interested enough to pursue it full time.
What do you consider your biggest success?
This is a very difficult question to answer. I think that every project I complete is the biggest success at the time because each project comes with so many unique challenges. Every new project was the biggest project available in the country at that specific time. For example, the Addu Convention Center. Completing a project so big in such a small timeframe was an enormous undertaking and the possibility of failure was very high. It was immensely satisfying to finish a project that many large companies, even international companies, had passed on saying it was impossible to complete within the specified timeframe. You have to realize that this was the kind of undertaking that would have been a huge source of embarrassment for the entire country if it failed. Another example of a huge success is Velaanaage. I had to source the funding for the project myself and it wouldn't have been possible without the funding from an international bank that I was able to convince. Another project I am particularly proud of is the Fuvahmulak Airport. It had initially been assigned to another contractor and some work had actually been done by them when I took over. It was a challenge since it had to be finished in time for the SAARC Summit, and we were already hard at work trying to finish the Convention Center for the exact same deadline. We completed both projects on time. I am proud to say that I have repeatedly taken on and successfully completed some of the largest construction projects in the country. I'd like to thank my family which I get a lot of support from together with the dedicated staff members.
What do you think sets Amin Construction apart from the other companies in the industry?
I think there are some people who think that we are different and one of the best in the industry. I cannot agree on it as when I started, the biggest name in the industry was ALIA Constructions. And even now I still believe, personally, that ALIA is the biggest and most successful company with a very diversified portfolio. There are several other big names working in the industry as well, some on par with us. I think some people believe we are the biggest and the best because they see many of the larger construction projects in the country handled by Amin Constructions. Over the years we have obtained ISO accreditations and we are on embarking on some key projects that stand would stand tall on the Maldivian skylines. Amin is not that different from the other companies operating in the Maldives.
What is your advice for the next generation looking to carve a name for themselves in this industry?
I think the main trait required to become a success in this industry is to have the courage to do things and always challenge yourself to do what has not been done before. You have to be focused on achieving success by overcoming the obstacles you face when you take on those so-called "impossible" challenges. Another thing is to be true to yourself. You have to work hard and believe that your success depends on your performance through dedication. If you're the head of a company then you should oversee everything, even the tiny details because no one else is going to pay as much attention to the entire process as well as you will, even if you have hired staff whose job it is to do so. With sheer commitment, dedication and dreams, keep on working hard and you can reach your dreams.