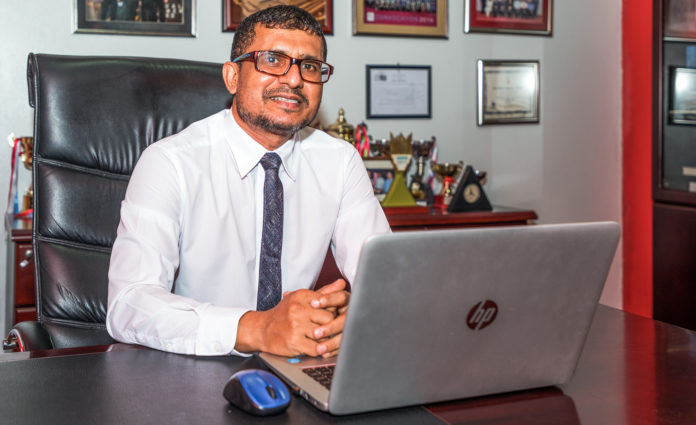 Mr Ahmed Shareef is the Chairman of Cyryx Group Private Limited. He started off his career in the living room of his sister's apartment in 1993.
Cyryx is now a full-fledged college that caters to over 3000 students and employs over 60 academic and support staff members. The facilities have grown to include two campuses in Male' with several computer training labs, modern lecture rooms, and a library.
How did you get started?
I think my career began in the sitting room of my sister's small apartment back in 1993. Together with a few other partners, we decided to start a travel business called Worldlink Travel. We had next to no money at the start, which was part of the reason why we converted my sister's sitting room into a makeshift "temporary" office. In order to buy the equipment, we needed for the office, specifically a telephone and phone line, one of the partners had to sell off his TV. Another piece of vital equipment we needed at the time was a fax machine. Since we could not afford to buy one, we considered renting a fax machine from someone. Luckily, a friend agreed to sell one to us on an instalment basis. We convinced another friend to come work for us part-time, and he helped us type out all the marketing letters and other documents we needed on an electronic typewriter we bought at a discount. One of the biggest challenges for us at the time was when my sister had to vacate her apartment. Luckily, our "office" was so tiny I managed to pack everything we had into a small bag and move out. We rented a small office space in Henveiru and moved our operation there. Since changing the phone line to another location was an expensive and lengthy process, we decided to go with call forwarding to carry on with business. That is how I got started my first business.
What would you consider as successes?
My company was doing ok but I wanted to branch out as I had developed an interest in the tourism sector during my days at Air Maldives and Sun Travel. I was actually deeply involved in running my travel agency when, in 1995, my best friend came to meet me with an offer. He had started his own business, a computer-training centre called Cyryx, at the same time as I had started my own business. He brought a file with him filled with handwritten documents that detailed the sad story of over MVR 300,000 in debts that Cyryx owed to various creditors. He told me that he was trying to sell Cyryx and that he wanted me to be at the helm since he had faith in me that I could turn it into a profitable business. I think he came to me because one of my partners had previously expressed interest in buying Cyryx, but I was not at all into computers or Cyryx at the time as I had a good thing going with my own travel agency Worldlink. I told him that I did not have the money to buy the company, but he was insistent and after a lengthy discussion, we finally agreed to the terms. My first task was to pay off all the overdue payments to the teachers and other creditors. That took some time as I really did not have the money, but I managed to discuss the financial difficulties with all the creditors and negotiate a way to pay them back in full over several months.
Cyryx itself did not have many viable assets either; just six old 486DX2 66 MHz computers, 2 printers, hard drives, floppy discs and few other items. It was an incredibly challenging and stressful time for me and there were several times throughout the whole ordeal where I just wanted give up. Everything I tried with Cyryx ended in failure. We even affiliated with another company and tried to start computer-training courses in nearby and rural islands, but that venture failed as well. Cyryx was an enormous burden that I simply could not drop or keep. Eventually, I reached a point where I was going to give up, shut it down and move on to other things when my wife suggested I should just probably keep Cyryx as it was for a while without trying to grow it. It was good advice, I think. Things all aligned for me in 2000 when we got a medium-sized space in Arabiyya School to operate the computer-training centre. It coincided nicely with the creation of Maldives Accreditation Board and the introduction of an accreditation system, and I realized it was the perfect time to start investing in Cyryx again. So I rented a larger space in Maafannu, Kothamaage, Male', first the ground floor and later the second storey as well, and invested my own money into buying the necessary computer equipment for the training centre. That is how Cyryx began in its current form.
Challenges
Every business needs to overcome various challenges in order to become a successful venture, and every type of business presents a unique kind of challenge. When I was operating my travel agency, the biggest challenge for me was breaking into a market dominated by larger agencies and foreign companies. With Cyryx the challenges are navigating the complicated regulations and restrictive policies that all educational institutions have to face here while devising ways to circumvent the larger roadblock of the lack of funding for private sector education. The difficulties we face range from not having enough land for building campuses and training centres, to not being able to find professional lecturers to teach at the campus and not having the proper facilities to train such lecturers on our own. I think the rules and regulations imposed on SMEs should not be the same as those imposed on larger corporate companies. These flawed regulations are what makes running a small business so difficult in Maldives.
What do you do differently?
At Cyryx we teach our own programs and training sessions. We create our programs from the ground up and design the content used in our lessons to be interesting and informative. We work together with the lecturers to come up with all the material suitable for the needs of students pursuing a career in the IT industry of the Maldives. Another difference is that I have been involved in a variety of different businesses. This helped me to subsidise the existing businesses that were not doing too well. That is how I have been able to bring Cyryx this far.
What is your advice for the young MD's and what are your hopes for the future?
To the young people, I would say, follow the rules and regulations and make sure to do clean business instead of trying shortcuts. It takes time to reach a successful level, so focus on the growth period. That is very important. Also, at the beginning of any business venture, maintain the promises you make and be very careful to ensure you fulfil those promises.
In future, I see myself as helping young, budding entrepreneurs by taking them under my wing and helping them grow into successful executives. I also have a dream of creating an NGO through which technology can be outsourced.
Disclaimer: The views expressed are the individuals own views and do not necessarily represent the views of Corporate Maldives.