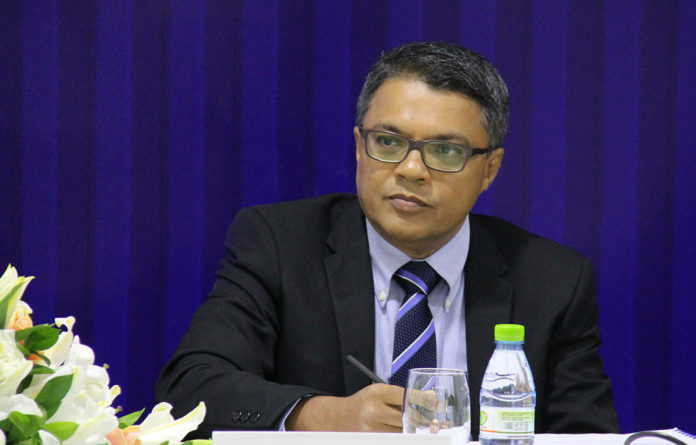 Mr. Aimon Jameel is the Managing Director of Centurion Public Limited Company, a third party logistics company providing reliable, efficient and organized logistical solutions to individuals and businesses in the Maldives.
Over the course of his career, Mr. Aimon Jameel has served several important positions within the industry, such as Board Member of the Maldives Ports Authority, Managing Director and later the Chairman of Maldives National Shipping Limited. Corporate Maldives sat down with this pioneer of the shipping industry to talk about the difficulties and successes of his shipping career which span over 35 years, and about his aspirations for the future. 
How did you begin your career?
My shipping career began in 1981 when I joined Maldives National Shipping Limited as a clerk. I have been in the shipping industry since then, making this my 36th year in the industry. In 1981, there weren't much career options; either we join the army or we join one of the government companies. We were required to serve the government for 2 years, and I joined Maldives National Shipping because I had aspirations to become a sailor or an engineer. I was very interested in traveling, and 2 years later I was sent to London where I spent 5 years studying Ship Management, trained as a broker and spent over a decade in Singapore and Sri-Lanka as I continued working in Maldives National Shipping.
In the early 90's, I met Captain Maumoon, my partner at Centurion. When I was the Managing Director of MNS, Captain Maumoon worked under me and eventually became my successor as MD. We shared a vision and a dream, and so after leaving MNS, after Captain Maumoon launched Centurion, I was invited to become a partner in 2011. I was a strategic partner until 2013, at which point I became the Managing Director of the company.
What are some of the most significant challenges you have faced?
A few months after I became the MD, we began discussing taking the company public. It all started with our vision; to keep Centurion alive for years to come. This is only the first stage; we don't want to the company to die with us. When you take a company public there are several changes; the management, operation aspect, with the most important being that the company will live on even after we have retired or moved on. This is our vision for the company; that Centurion will live on.
We began preparations in 2014, and it took a very long time to get there. Centurion is the first privately held company that went for an IPO and we had a lot of hurdles. We worked with the authorities for close to 8 months before we got the final letter of endorsement that we could go ahead with taking the company public. The process of going for an IPO had several hurdles, both from the authorities and financial institutes as we were the first private entity to go public.
The lack of human capital is also another great challenge in the industry, as we have a severe lack of human capital on the shore for the technical side. The seaside human capital is very strong, we have plenty of captains and sailors. We have come up with a solution where we are encouraging and pairing our experienced employees with junior employees, in an almost mentor-like capacity. We run programs where we train employees and yet we notice there is an issue with retaining staff and the local staff turnover is still higher than it should be.
We want local freight forwarders to develop. If you look at the Maldivian Freight forwarders market it is sad to say that most established in Male' still doesn't belong to Maldivians. There are few companies that are 100% Maldivian but most are controlled by foreign entities. So any local company, we would highly encourage them.
The shipping industry evolved in the Maldives. Traditionally we are a liner service provider, as far as the port is concerned. When freight forwarders and NVOCC (Non-Vessel Operating Common Carrier) operators started coming in, the authorities including customs and port authority had difficulties changing the regulatory framework to cater for international practices. It is changing, and evolving but slower than the pace at which the market is growing. In general, the shipping industry is a volatile market, but Maldives is considerably niche, and while cyclic shipping goes up and down all over the country, the Maldives market has been fairly stable.
What are your notable successes, both personally and for your company?
For Centurion, going public is the greatest achievement so far. This is a foundation we are laying for the company and we are planning to build on this.
One incident that I still recount from the 1990's, the very first local container vessel 'Pioneer Supreme' from Colombo to Male', on which we loaded 6 containers out of Colombo. I was one of the people who facilitated this, and I remember the terminal operator in Colombo telling me that if I'm loading only 6 boxes I will not survive in this industry. Today, Colombo is our hub and we ship 400-600 containers weekly. This great change, this evolution, and advancement within the past 20 years gives me a lot of pride.
Personally, I would say there are many instances that I have felt in my past are some notable achievements but I would also say that taking this company public is one of my greatest achievements. There is also no other true third party logistics (3PL) company apart from Centurion in the Maldives, and that's something I'm very proud of. We provide a spectrum of services where we may pick up your cargo from the original warehouse, truck it to the port, freight it to Male', clear it from Customs, and even deliver it to your doorstep.
What are your plans for the future?
There are big companies from outside of Maldives who have come and established themselves here, but Centurion is the only Maldivian privately held company that is 3PL and we are working towards our vision, and our dream, to move forward and become a 4PL company which acts as an integrator that accumulates resources, capabilities, and technologies to run complete supply chain solutions.
Personally, I wish to continue in my capacity as Managing Director of Centurion until our visions are a reality. In the future, I like to see someone more capable than I am, a younger and newer generation, to come and take over the business and run the company. Centurion is a public company now, and while I would stay on as a member of the board, I would like to see the youth take over and do things that I can't or may not think to do, and take this company forward to even better directions.