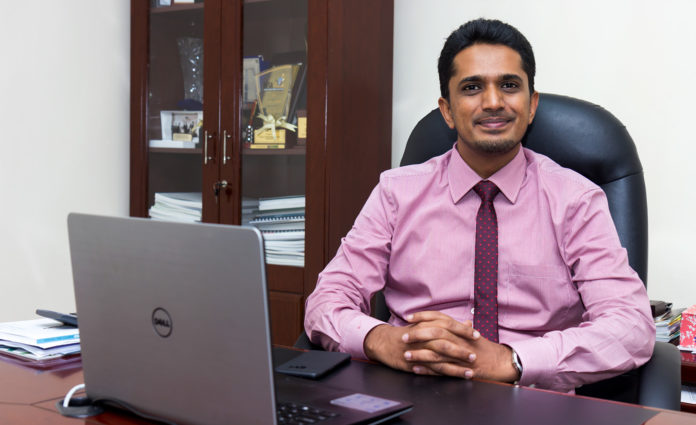 Mr Sulaiman joined Amãna Takaful PLC in 2002 as the Internal Auditor and progressed through various positions. He currently serves as the Managing Director of Amãna Takaful Maldives. He is an Associate Member of the Chartered Institute of Management Accountants (CIMA) in the UK and holds an Honours Degree in Accountancy from the International Islamic University of Malaysia. 
How did Amãna Takaful get started?
Takaful as a concept emerged in Sri Lanka back in 1999. Introducing this new dimension in Insurance had its own challenges. Nascent as one would expect, it was a turbulent journey in terms of convincing the predominant conventional insurance-market, given the perception as an alien concept. Gradually the general public began to subscribe to the range of products offered by us. Our one-to-one approach expanded with tailor-made solutions, building a service ethos with speedy claims settlement. These first wins gave us the encouragement to forge ahead despite the challenges. This resolve gave the much-needed fillip to our Board to widen our horizons and set sail to the neighbouring Maldives.
How was the experience of Amana Takaful in the Maldives?
Being a 100% Muslim country, the ground was fertile; the cultural, historical and economic landscape was an ideal setting for the introduction of Islamic Finance. Notwithstanding, pioneering Islamic Finance in the Republic back in 2003 had its fair share of challenges. Apart from the teething problems, positioning and placing Shariah-compliant Takaful solutions, that too by an overseas entity, required Regulatory approvals, carefully targeted messages and building capacity and capability with local talent to endear and earn the respect in being a trusted entity. Over time, we learnt our lessons and integrated ourselves to be a formidable player in the Insurance landscape – or shall I say sea-scape in the Archipelago.
Reflecting on this journey and growth, the positive response and the encouragement from the discerning public, we were emboldened to re-structure ourselves as an independent entity. Registering as a Private Company in 2005, we received the licence to operate in this capacity by 2010. By then, our double digit year on year growth gave us a fresh impetus to invest in Technology, Research & New Product Development and industry-leading service ethos to cater to the increasing customer base.
Leveraging on the strength of our Parent Company, which is a listed entity on the Colombo Stock Exchange, the Board's appetite to list the Maldivian outfit into a free-standing entity in the Republic of Maldives fulfilled a commitment to further the hallowed principles of Islamic finance. Although the equity market was in its nascent stage, the intention was also to broaden our shareholding and invite public participation. The IPO was well received with a full subscription from an over-whelming public, re-kindling the interest in the stock market. Amana Takaful Maldives thus became the first Shariah-compliant stock, certified by CMDA.
Since our listing and incorporation, our year on year growth and exemplary performance in all aspects of the business, has yielded regular dividends and importantly, sharing of Surplus with Participants. The latter has been accomplished with increased frequency more recently. Surplus Award is a cardinal tenet of the pure and pristine Takaful concept.
What would you consider as successes?
Introducing the Takaful concept at a point in time when Islamic finance was relatively unknown is a singular success. Commencing operations in a back room set-up with limited human resources we had to move swiftly in recruitment, training and development of staff with the support of our parent body. The local talent has endured with us to build a club of goodwill Takaful ambassadors. We are very fortunate to have dedicated and talented Maldivians who have shown an abiding interest towards Islamic finance. This philosophy of growing our own timber has paid off handsomely with locals in management and senior positions.
Innovation has been the game changer. Initiatives at the very early stage, in the form of introduction of cashless medical services, the launch of the Mobile App- a first in the Republic which has endeared to the growing customer base. These first mover advantage has also provided an avenue to craft products and services with the added impetus of developing the online transactional capability.
I am happy to note that we have also gained the recognition from Islamic Finance Forum of South Asia (IFFSA) and awarded with prestigious Gold Award as the best Takaful Entity for our overall performance in the region in both 2016 and 2017.
Tell us about some of the most notable challenges you faced.
Challenges are inevitable and we have been facing different ones in every phase of our journey. Investment Income for the Insurance fraternity is an intrinsic part of profitability. As a Takaful Operator, the biggest challenge we continuously face is on the Shari'ah compliant investments. Our excess funds do not generate expected yield due to limited Shari'ah compliant avenues. To some extent, workable solutions have surfaced. Our resolve in consistently exploring alternative solutions, while lobbying with the authorities continue.
Yet another, is to stay ahead of the curve in creating awareness and top-of-mind. Winning the recognition and acceptance from the public is always a challenge. We relentlessly pursue awareness programmes, media discussions and scholarly inputs from Shariah members in our public engagement drive to strengthen the concept of Takaful in particular and Islamic Finance in general. Our record for customer service and speedy claim settlement is amply borne out by the testimonials of all stakeholders and the accolades we keep winning.
Takaful is an ethical concept. We do not engage in unfair practices. Being a listed entity, we are in the public eye, unlike others, adhering to a code of conduct in all our governance. While that may put us at a disadvantage in the competitive field, our resolve to be above board in our dealings is steadfast.
What do you think you do differently at Amana Takaful?
As I said earlier, we have to be ahead of the curve and be able to sense the environment for the unexpected, as much as the insurance business does. Unforeseen challenges have emerged and we have been able to weather these storms through maintaining an open dialogue with Regulators and connected opinion leaders for the good of the industry. Saner counsel has prevailed. That is absolutely important to maintain a level playing field and secure the personal and business interests of the insuring public as the economy positions itself for growth at an accelerated pace.
Public engagement and advocacy programmes through our stakeholders are a regular feature at Amana Takaful.
Emphasis on skilling-up the Team to inculcate our values and expand the knowledge of our human resource through exchange programs with our parent body, other interventions in structured study and management development opportunities overseas and advocating a winning culture in the workplace continues unabated.
Individual talent is recognized and rewarded. Unleashing creativity is a maxim. Though the company has a framework of a set of beliefs and values, it should not inhibit free thought. In fact, we harness ideas and suggestions to improve.
We continue to give utmost importance to innovation and technology-driven solutions to provide unmatched benefits to our customers.
What is your advice for the younger generation and what are your hopes for the future?
From a talent perspective, professional improvement and certification in Insurance and Risk Management will always hold one in good stead. Seats of learning must include related topics in their curriculum and entice subscription of related coursework to build more rounded individuals. This will help build a talent pool for the country and industry. In technology savvy Maldives, the youth can surely influence industry in the Digital drive. Come help us to change the face of Insurance to a Digital Platform.
How much of an importance to you give to CSR programs?
As a corporate citizen, we have a responsibility towards working for the betterment of the larger society. No matter the scale, we should take the right initiatives to ensure the benefits would go back to the public. Year on year, we have set aside resources for various awareness and other such other programs. We collaborate with NGOs and other organisations to make it a success. Our initiatives will continue.