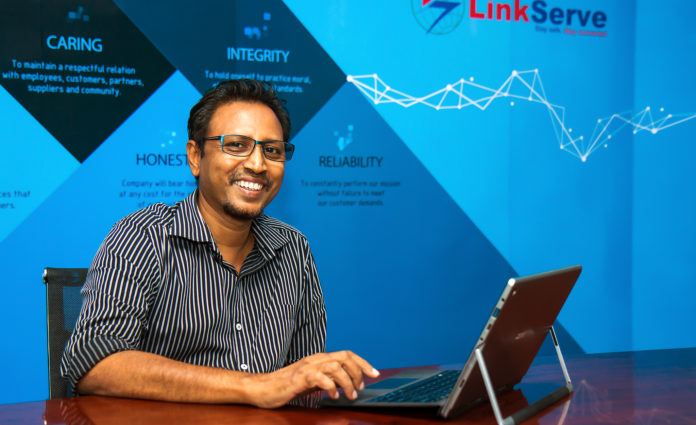 Mr. Ibrahim Faiz is the Managing Director of Link Serve Pvt.Ltd. He started off his career as a junior technician right after school.
Having started Linkserve with his brother in 2002, He currently leads a strong team of 85+ and 5 outlets across Maldives.
How did you get started?
During my school days, I wanted either to be a mechanical or an electrical engineer. Unlike these days, soon after completing my London O'level exams from the secondary school, I got a job as a junior technician at the telecommunication department, that is where I started to develop my career in telecommunication field. That year, Dhiraagu was formed and my job was transferred to Dhiraagu and I was lucky to get 3 different opportunities to study in the UK under Dhiraagu scholarships. From the post of a technician later promoted to an engineer, I never thought of myself as a businessman. However, my family is very much in business and I was involved in the family business up to some extent during my school days where I used to spend few hours, as a shopkeeper, where I learned responsibilities of managing a shop. Back then, it was the one and only grocery shop in town named the "Green Grocer".
We started our business of Linkserve in 2002. Myself and my brother travelled to Dubai and bought nearly a 100k worth of goods which included cable TV items, mobile accessories, cables and connectors. We started with 2 salesmen to look after the shop and our first outlet was not bigger than a 200sqft shop in Abadhafehi Magu, off Majeedheemagu in Henveyru. We Initiated the business with a very small cyber café at the back office, but never operated successfully and later changed to a mobile repair centre and finally had to utilize that area to expand the shop. After 3 years of business, we needed a bigger place and moved to a 1000sqft shop in Rahdhebai Magu, where we stayed for 5 years. Alhamdulillaahi, as the business was growing, we decided to invest and put up a showroom of 4,000 sqft. By leasing the place for a longer period of time.
Currently, Linkserve owns five outlets. Two are located in Male' city, One in Addu, One in Kulhudhufusshi and One in Hulhumale'. We are happy that we are present with a staff strength of 85 plus and still growing. Our service includes Installation and maintenance of Data, Telecom and Security systems.
What would you consider as successes?
Even at the beginning, we had a vision. Our plan was always to be a remarkable company in the field of Technology, especially in accessories mainly focusing on Data, Telecom and security products. We always wanted Linkserve to be a one-stop centre for customers needs and requirements.
Worth to note that Linkserve is the first of its kind to maintain a stock of items for Security Solutions Products such as CCTV and access control systems in addition to telecom products like PABX systems and accessories.
It is always in our interest and priority, to provide job opportunities to Maldivians at all key areas of the company such as Accounts, Business Development, Procurement, Human Resources, Sales and Technical support. We are proud to say 100% of our sales staff are Maldivians.
As the market changes the requirement keeps on changing constantly. The introduction of key departments such as Enterprise Solutions and Renewable Energy and the addition of electronic components to our list of available products helped to our growth even further. We continuously strive towards maintaining the stock availability of fast moving products while at parallel keeping up with the competitive market prices with all the different types of products that we carry.
With Almighty Allah's will, our success comes by believing in the common vision to "be the first choice in the technology industry" and foremost our continuous open-door policy to all our staff to share their concerns and ideas and flexibility which we provide to them at the time of need.
Challenges
In a world where the business trends keep on changing constantly at a rapid speed, the way we approach things have changed drastically too. Like every action has a reaction, every change has an effect both on the community and its businesses. Our greatest challenge now is to compete with the ever-changing international sector of e-commerce and its market giants. These international businesses are literally putting our local businesses "out of business" with their competitive low prices which terribly shakes the newcomers.
What do you do differently?
If I were to answer that, it would be our mission to be recognized as "One family shaping technology in Maldives" and we always keep an eye on our values. In the history of Linkserve, we have never stepped into any bank or financial institute seeking a financial assistance. We do not believe that businesses should be giving middlemen commission in order to win a business deal.Hence our business relationships lie directly between Linkserve and the end user.
What is your advice for the young MD's and what are your hopes for the future?
Just as in life, businesses also will have its up's and downs. What you need to remember at first and foremost is that you will always need to have a positive approach and have complete faith in the people around you. Another important advice to the young generation is not to fall into the bad habits of an unhealthy lifestyle.
Always have faith, never compromise on your religious ethics and never forget your origin as a Muslim.
Disclaimer: The views expressed are the individuals own views and do not necessarily represent the views of Corporate Maldives.