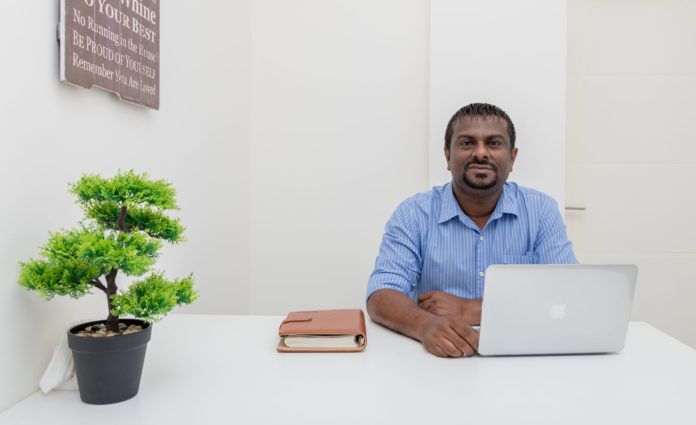 Mr. Ismail Hameed is an entrepreneur and one of the first people in the country to explore the publications and event industries of the Maldives. His company, High Rise was formed in 2007 as a graphic design and event management company, now expanded and incorporated with a marketing firm, operating from Male', Maldives & Colombo, Sri Lanka.
How did you begin your career and how did you get involved with your company? My career started straight into tourism while I began working around the age of 16 in reservations for the most classical yachts at that time. It was around the mid 90's. My father is from 'R. Alifushi', an island popular for boat builders and it was a big part of our lives, so I came up with the idea for the first and exclusive Boating Tourism Publication namely "Floating Maldives" along with my friends during 2005.  Private publication wasn't a scope of many at that time and promotions of the sector lacked compared to how other tourism areas were reaching.
Highrise was formed in 2008 as a fully-fledged events company. We were the first to organize a Travel Award in the Maldives for MATATO, and the only company who has delivered Maldivian events abroad at different destinations. Our own brand, Vacations Expo will be written in history as the first Travel Exhibition held in this Country, while Maldives Living Expo is the only property show running, and the Sounds of Maldives series has been successfully delivered in Colombo, Bangalore, Kuala Lumpur, Dubai and now 2017 in Singapore.
Apart from those we also conduct an Annual exhibition namely Maldives F&B Show.
What are the significant challenges you have faced?
Venues, to do big events becomes a challenge to any event organizer, both due to lack of venues, and also venues being pre-occupied.
Apart from the venue issue, there are always challenges and there should be as well. I don't believe anything which comes easy will remain long. So we get the support from many including government and corporate sector while we plan and execute programs.
How do you feel your company has changed the industry that you operate in?
We still feel that, anyone or everyone who starts something big on an events platform solely without involving the government sponsorship would be coming to Highrise, as no other company in the events field in Maldives has expertise or courage to take the risk. So far till today, no one has successfully conducted a Maldivian event outside of the country by themselves without government involvement.
Highrise has a team that believes in challenges and hard work. Taking the risk and achieving it makes us feel and elevate ourselves to make the next one even better.
What do you feel are the greatest achievements of both your company and yourself personally during your career?
Highrise is always the first on many things. That makes us unique. But I don't personally do this, we do all these as a team and I have always had the support from my wife and Shifraz, my colleague at Highrise.
The company's list of accomplishments include launching 'Floating Asia' in 2008, Maldives Travel Awards in 2012, Living Expo in 2013 and Vacations Expo in 2016.  We also introduced a regional Travel Award along with our partners in India and Sri Lanka the same year, making history by introducing the first South Asia region's travel and hospitality recognition platform.
For personal achievements, in 2014, I received the National Youth Award in Event Management from the President, and in 2016 , I received JCI's Ten Outstanding Young Person Award.
What are your plans for the future, both for your career and your company?
Highrise will invest in developing people to lead what we have stated. We will introduce new events and mediums as we go ahead. While our events will be expanded to new foreign destinations in the coming years.
What we do are from our hearts. With passion and creative fun.