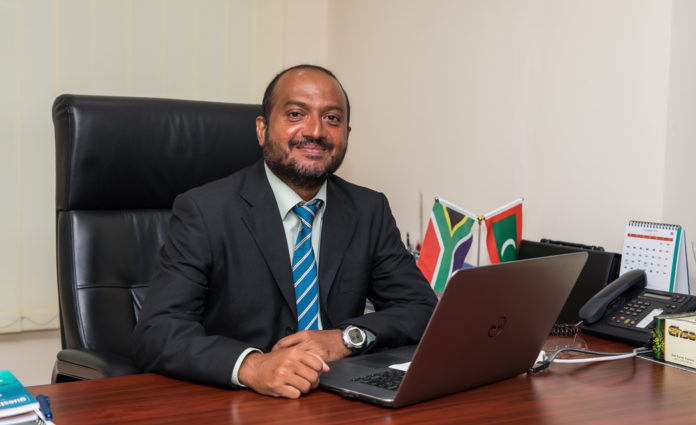 Mr Mohamed Ali is the Executive Chairman of FALIM Group, a leading investment and management company in the Maldives in a diversified range of business segments both locally and internationally.
He started off as a teacher at Aminiya School as well as a part-time teacher at the faculty of Management and Accounting. At present, he leads and manages several subsidiaries under the FALIM Group Umbrella.
Let's start from the very beginning. What was your childhood like? Were you always this motivated to achieve success? 
My childhood was a difficult time, with my mother working hard to provide for the entire family. My father was a well-known businessman at the time, but even so we weren't very well off. I think seeing how my mother struggled to ensure we had what we needed to survive was what actually pushed me to try to achieve something greater when I grew older; so that I could prevent the same happening to my own children when I would have them.
During O' Level days in school, I was in the school band and got the opportunity to be introduced to colleagues who belonged to well-off families. This exposed me to the world at large and the various options I could have to go ahead and be successful in life. That's when I decided starting a business would be the best way to earn money. After I finished O' Levels I tried to become a pilot, but there was no one to teach or guide me to achieve it. During those days there was a lack of opportunities and guidance for careers that didn't involve the Science stream. Meanwhile, I did small jobs that usually involved painting and calligraphy. I even got Second Place in a nationwide contest in Arabic calligraphy and was invited to meet the then president His Excellency Maumoon Abdul Gayyoom, who bought my winning Arabic Calligraphy piece for MVR 3,000 at that time. Getting to meet the President and being awarded at such a young age was an inspiring moment for me.
After failing to get the education I wanted in the Maldives, I applied for a business scholarship in Malaysia and got it. However, when I arrived in Malaysia I realized something had gone wrong somewhere, as the scholarship had not been formalized. It took some time to sort things out and finally get everything in order. It was a scholarship funded by the refugee fund that was set up at the University. As such after paying the university fees and settling the accommodation bills I had less than 50 ringgits per month for everything else. As you can imagine it wasn't easy and after two years of struggling not to starve while doing my degree, I applied for a merit-based scholarship. I was awarded the scholarship, as they saw I was doing quite well, and got 250 Ringgits as a monthly stipend. Conditions became a lot better after that. Alhamdulillah! Throughout the university days, my motto was "nothing is impossible if you work hard". Whatever you put yourself into, if you work hard for it, you can achieve it!
The same year I graduated from International Islamic University with an Honour's Degree in Business Administration, I went to India and did a post-graduate Diploma Course in Advanced Financial Training and later received the Certified Accounting Technical membership from the Association of Certified Charted Accountancy (ACCA-UK).
So you were studying business at the University. How did you get interested in computers and IT?
Computers have always fascinated me, so I also learned graphics and designing while I was studying. When I returned to the Maldives after completing my Honour's Degree in Business Administration, I started looking for a suitable job. Meanwhile, I was doing graphics for Haveeru newspaper and managed to generate a good income. I also did a lot of other jobs here and there. During those days, after you complete a Government awarded scholarship, you will have a bond that you have to work off. The Government will randomly assign a job irrespective of what you studied or, at times, even if the job had no relevance to your field of study. I had no training or experience in teaching but I was assigned to teach at Aminiyaa School Grade 8, 9 and 10. It was a challenge but I did work there for one year. During that same time, I was also teaching part-time at the Faculty of Management and Accounting, which was known by another name at the time. While working there, I am proud to have been instrumental in bringing CIMA and AAT to the Maldives for the first time. In addition to teaching, I also did auditing for companies during my free time. I was one of the first individuals who received the approval from the Auditor General's Office to audit small companies. Doing all these simultaneously allowed me to save enough to start my own business. During this time, I also did my first Business Plan for a client, and when he was granted the loan for his business, he gave me MVR10,000. With that money I bought my first printer and a second-hand cycle, that was constantly in need of repair.
How did you get started with your first business venture?
Although I am from Male', my family owned no land and we had no place of our own. At the time, we were living in a house, which belonged to a relative of my brother-in-law. To begin my business, I set up a table in my shared room. The company's first assets were a printer, the table given by Mr. Hassan Zahir, my brother-in-law, and a broken computer that I had to fix first to get anything done on it. I hired one of my students from the Accounting Institute and we both took turns using the computer. After a few months, I married and moved to my wife's house, so I had to find another workspace. I reached to my brother-in-law again and he suggested using a space in a cement go-down owned by his youngest brother. I set up my office there and managed to use it for a year before I had to move again due to the cement dust. My brother-in-law helped me out again by giving me a space on the top floor of his house. Unfortunately, there was no way to access it, as the stairs to reach the floor had not been built yet. However, since he was offering it to me rent-free, I paid somebody to build the stairs and then did the ceiling and partition of my new workplace on my own. Haisham, my nephew and Shaffa, my niece lent helping hand to get it all fixed. We did mainly consultancy there. Relax Inn was our first client, then came Raaveriyaa and later Corona Palace and it grew.
I was still working part-time at the company where my brother-in-law worked. One day, the current Tourism Minister, Mr Zameer, showed me a bookkeeping software. After going through it I knew this could change my future. The software was QuickBooks. I really liked the software and bought it from him for 99 GBP. Afterwards, I contacted the developer, to discuss if they had interest in selling the software in the Maldives but they were not that interested since the Maldives was such a small country. However, after a lot of effort and talking with several dealers, I managed to get my first few copies to sell and received the business partnership to promote and service the software.
After we started selling QuickBooks in the Maldives, the demand for it rose here. By the end of 2007, it was clear that there was a huge market and it was a very successful venture. I invited Ahmed Ali, my younger brother partner with me. At that time he showed less interest as he thought I was not doing much. We are very different in character and I knew that he was extremely good at things which I am extremely weak at. So I had urged him to join me on several occasions. In 2007, we finally formed a partnership. It was actually a 50:50 partnership but we had to go for 49:51 sharing because according to the law at the time, equal partnerships weren't possible. That's how the Insight Consultancy Services (ICS) was born. That was how the business today known as FALIMGroup Pvt Ltd came into existence.
We created and registered ICS mobile training centre, which became the foundation of MAPS College. We also started CBC Game Station which was the foundation of ICON Computers Private Limited. ICON was the IT Company that many Maldivians would remember for generations to come as we had set a Guinness World Record during the life of ICON Computers.
As time went on, I started taking lots of consultancy projects for resorts, and we started making a lot more money. My brother usually does the HR plans, and I do the Marketing and Financial plans.
What about ICON computers? That was one of your biggest successes, right?
My brother always wanted to venture into the IT market, as he believed it had huge potential. We had the idea to open ICON Computers to sell computers and accessories for several years before actually doing anything about it. When we first opened ICON Computers it didn't do very well. We figured we had to go bigger, so I raised funds and we opened a larger shop in a new location. ICON Computers did very well during the second time and we ended up opening a large showroom together with a huge service centre in Sri Lanka as well.
Sadly, the ICON venture didn't have a happy ending as we were deceived by our partner in Sri Lanka. Adding to that was the recession that hit the Maldives, affecting all IT businesses. During that time, we had started investing in real estate to make AMINA Residency, named after my mother. Our business was almost bankrupt at the time but luckily the building was completed in time and we were able to survive the recession. It was then the banks called and asked to repay their loans. I met with the bank officials and told them that they had granted the loan to us based on our performance and that at that time the decision was in their hands to help or destroy us. After a long discussion, they decided to decrease the monthly payment amount. Bank of Ceylon offered the most help as they had seen how heavily we invested in ICON Computers both here and in Sri Lanka. Bank of Maldives was very helpful too.
2009 was a disastrous year and there were times when I had doubts that we could survive even. By the time AMINA Residency was completed, we had managed to form a great team and they suggested opening a construction company. That's how HaZa Construction Private Limited started.
Sadly, my brother-in-law also passed away soon after, and there was nobody for me to go talk and discuss business issues with. Since my brother-in-law was very fond of construction work, we decided to name the new construction company dedicated to him: HaZa as in Hassan Zahir.
When did FALIM Group come about?
By then we had so many separate areas doing various things, we knew we had to bring it all under one holding company. Since ICS was specialised for business automation and business consultancy, it couldn't be a holding company. We decided to make a group name: FALIM Group. The name was given by my brother Ahmed Ali, derived from my dad's name: Furahani ALI Manik. The reason we wanted to dedicate it to him is that although we weren't that close, when we were in our teenage years, being rebellious and uncontrollable, he would always be there to keep us in line, discipline us, and save us from going down wrong paths. Now we are developing a brand in our mother's name also. AMINA, our Property Development business mainly in hospitality and real-estate. This was an obvious choice as my mother is very hospitable, kind and an extraordinary woman, who has dedicated her entire life to bringing up her five children.
What's the story behind Moodhu Holidays?
We created Moodhu Holidays in 2003 since resorts were a major income source and we knew we had to find a way to get into the market. We bid for an island to develop a resort under #FALIMGroup and we came first but were disqualified because the proposal had not been physically bound properly as per specifications. When we failed to acquire the island, we decided to venture into the travel business.
Between 2011 and 2017, FALIMGroup as a company has seen a lot of growth. I have always wanted to become successful on my own merit and I feel we have now accomplished that. Without any inheritance or sizeable financial backing from other people, we have reached this far. That is a huge and proud accomplishment.
Any words for the younger generation looking to follow in your footsteps?
For those looking for inspiration from my own story, my advice is not to give up too easily. These days, what we see from the youth is that they give up as soon as they face a few minor difficulties and challenges. When they do not achieve the success they want immediately or within a short duration, they lose hope and give up. That's not the way you achieve success. You have to persevere through the hardships, struggles and many challenges to achieve the result you have always dreamed of. The other most important thing is to respect and to show gratitude to those who have always been there for you. In this regard, I would always be grateful to my mother, my wife Zeen, my siblings, Hassan Zahir, my brother-in-law and Mr Rauf, my-father-in-Law, for believing in standing by me in good and bad days.
Disclaimer: The views expressed are the individuals own views and do not necessarily represent the views of Corporate Maldives.