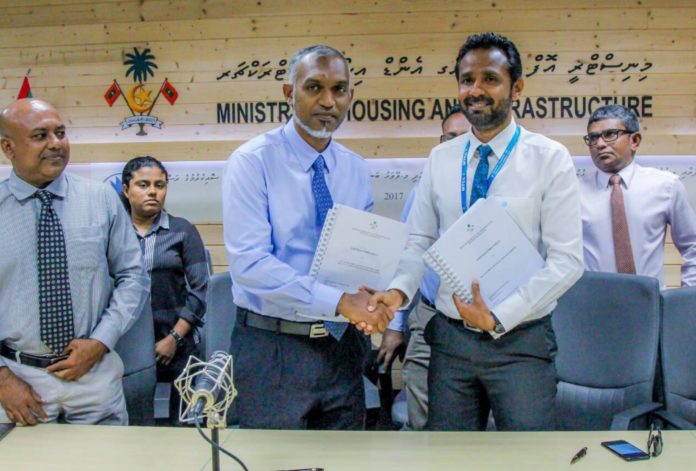 Maldives Transport and Contracting Company (MTCC) has signed an agreement with the Ministry of Housing and Infrastructure to raise and reconstruct the breakwater on the eastern side of Male'.
Minister of Housing and Infrastructure, Dr Mohamed Muizzu signed the agreement at the signing ceremony held on 15th April. MTCC's Managing Director Ibrahim Ziyath signed the agreement on behalf of the construction company.
The state has allocated a total of MVR 46.4million from the budget for this project. MTCC has a ten months to complete the 430 meter long breakwater project.
After signing the agreement, Minister stated that the project includes raising the eastern side breakwater along with installation of a Storm Water Pumping System. "Construction works are underway for a very important project – King Salman Monsque. Our aim is to finish the reconstruction and development works of the breakwater before the mosque is completed. We want the area to be protected", explained the Minister.
Muizzu further explained that the area faces difficulties during rainy season due to sea swells. Therefore, the government has decided to raise the breakwater from artificial beach up to Citron area.
Minister also added that the project would leave investors pleased as well considering it would minimize the damage caused by the sea swells at the area.