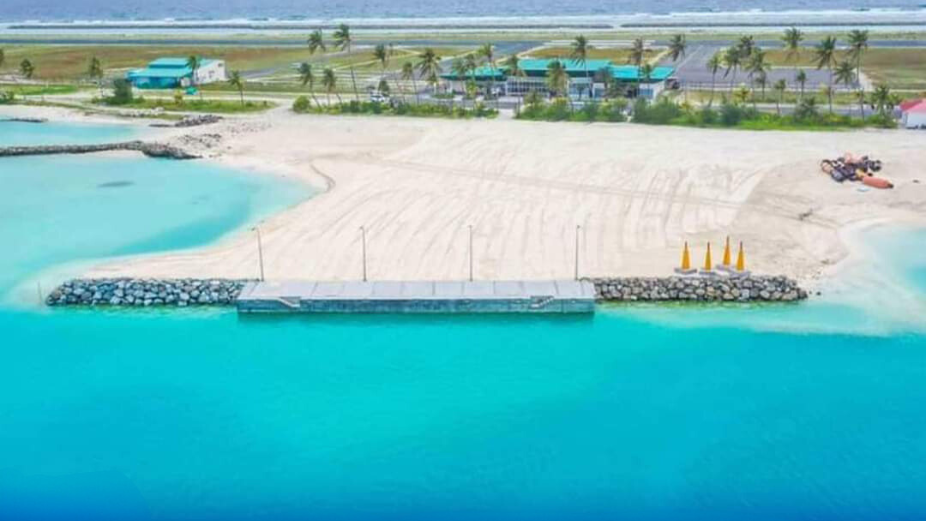 The Maldives Transport and Contracting Company (MTCC) successfully completed the HA. Hoarafushi airport jetty construction project, which was awarded by the Ministry of National Planning, Housing, and Infrastructure. This achievement has already brought about significant improvements in transportation to the northernmost islands of the Maldives.
Previously, residents of HA. Hoarafushi, Ha. Ihavandhoo, Ha. Uligamu, and Ha. Molhadhoo faced considerable challenges during adverse weather conditions when travelling to Hanimaadhoo Airport across the Gallandhoo Sea. Since the project's completion, approximately 10,000 people no longer face this issue.
We have successfully completed Ha. Hoarafushi Airport Jetty Construction Project.

Scope of works include, 18,000 cbm channel dredging operations, 44m quay wall, construction of a jetty using L block, protecting the jetty area using 49m rockboulder revetment, 51,587 reclamation… pic.twitter.com/a2b1HsErTQ

— MTCC Plc (@MTCCPlc) September 13, 2023
For residents of neighbouring islands, accessing Hoarafushi Airport used to require them to utilise Hoarafushi Port and incur additional land travel expenses due to the airport's distance from the port. Nevertheless, with the construction of the Hoarafushi Airport jetty, people from all nearby islands can now access the airport directly without the need for further travel.
The project's scope of work included 18,000 cubic metres of channel dredging operations, the construction of a 44-metre quay wall, the creation of a jetty using L blocks, the protection of the jetty area with a 49-metre rock boulder revetment, a 51,587-square-metre reclamation of the jetty area, and the installation of navigation lights.
The project's total value stands at MVR 5.65 million.