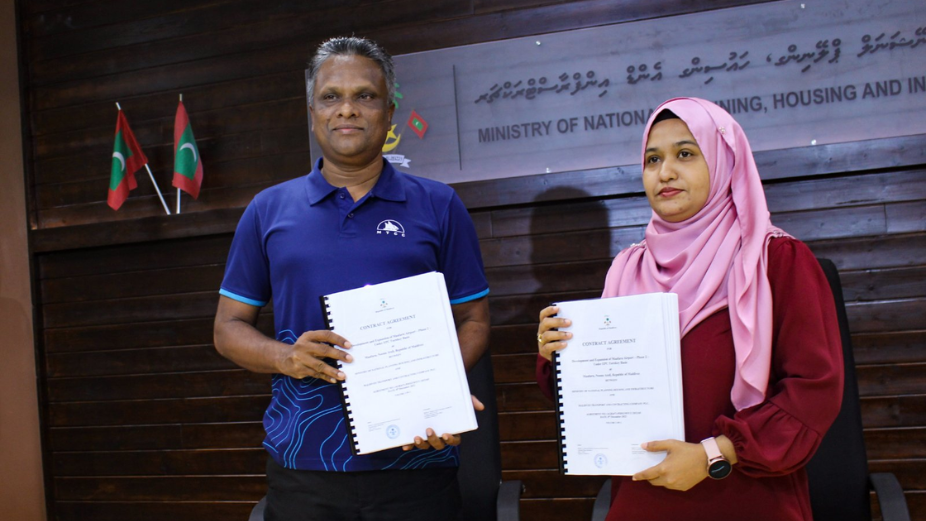 Maldives Transport and Contracting Company (MTCC) has been awarded the project to develop and expand Maafaru Airport (Phase II) by the Ministry of National Planning, Housing and Infrastructure of the Maldives.
The agreement was signed at a ceremony held on Thursday. CEO Adam Azim signed on behalf of MTCC and Ms. Fathimath Shaana Farooq, Director General signed on behalf of the Ministry. With a population of 16,706, Noonu Atoll is a thriving tourist destination with seven luxury tourist resorts which provides ample amount of employment opportunities for the residents.
The commencement of airport service with the completion of phase one of N. Maafaru International Airport dawned on a new beginning for the residents and the tourism industry, making it the main gateway to the flourishing economic activities of the atoll.
Island Aviation Services (IAS) which operates the N. Maafaru International Airport revealed that it is the second airport in the Maldives with the highest arrival rates after Velaana International Airport. Reflecting on statistics revealed by IAS for the year 2022, more than 300 jets have arrived at the airport as of November 2022 while 80 additional jet arrivals are expected in the upcoming high season.
The contract signed with the government of Maldives and MTCC on Thursday towards expanding the airfield runway and taxiway of Maafaru International Airport will further expand the airport's capacity and thus improve the economic outlook of the atoll and the whole economy of the Maldives.
The project is valued at USD 27.18 million and the project is to be completed within 365 days.
Over the past 41 years, MTCC has delivered various developmental projects in different regions of the country. As an essential partner in nation-building, MTCC has gained nationwide trust and recognition for its capacity and expertise in delivering diverse types of infrastructure development projects.