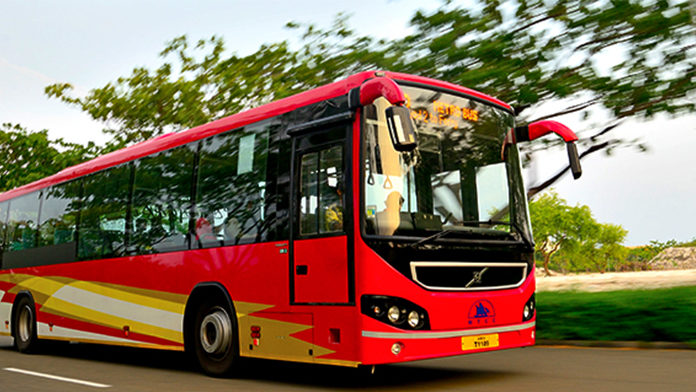 Maldives Transport and Construction Company (MTCC) held a special ceremony last night under the slogan 'liable transport system – for a better life' in front of HDC Park, Hulhumale', with MTCC's Chairperson Mr. Ahmed Niyaz as the guest of honor. The event was also attended by Housing Development Corporation's Managing Director Mr. Mohamed Saiman, along with other prominent figures in the Maldives transport industry.
The ceremony was a showcasing ground for MTCC as they revealed new line-ups entering the Metro bus-fleet and new additions to the Private Hire service as well as the local ferry fleet.
MTCC's newly added vehicles and vessels boast a carrying capacity of 253 passengers more than their previous count, while the new bus line-up has bumped the passenger capacity to 88 travelers in addition to this, the newly added private hire vehicles under the fleet includes 4 people, 11 person, and 44 person carriers. The ceremony also emphasized and highlighted on the milestones the company has achieved and the successful progress of the transport system since its inception in 2001.
Chairperson of MTCC Board of Directors, Mr. Ahmed Niyaz, assured that the Premium Link ferry service will see a pace-jump of 15-minute intervals between consecutive ferries from the current 30-minute intervals. He also stated the credit-based transport medium, dubbed DhathuruCard, will be utilized for each and every ferry service option available at MTCC while the company is striving to implement more tech-savvy methods into their transportation systems in an attempt to joust the efficiency and effectiveness of the system while meeting with present day requirements.
MTCC boasts a myriad of transportation services that stretches from standard ferry channels between capital Male' to neighboring islands to several atolls. In addition to this, they also cater sea transport services in the form of Express – speed boat service – Air-conditioned ferries as well as the Metro Bus system based at Hulhumale'.
Maldives Transport and Construction Company is among, if not the top-tier corporation, in Maldives with regards to their foothold in the fields of land reclamation, beach/shoreline protection, dredging and harbor development projects carried out across the country. MTCC is also an elite establishment for wholesale and retail of sea vessel equipment and accessories as well as construction material.