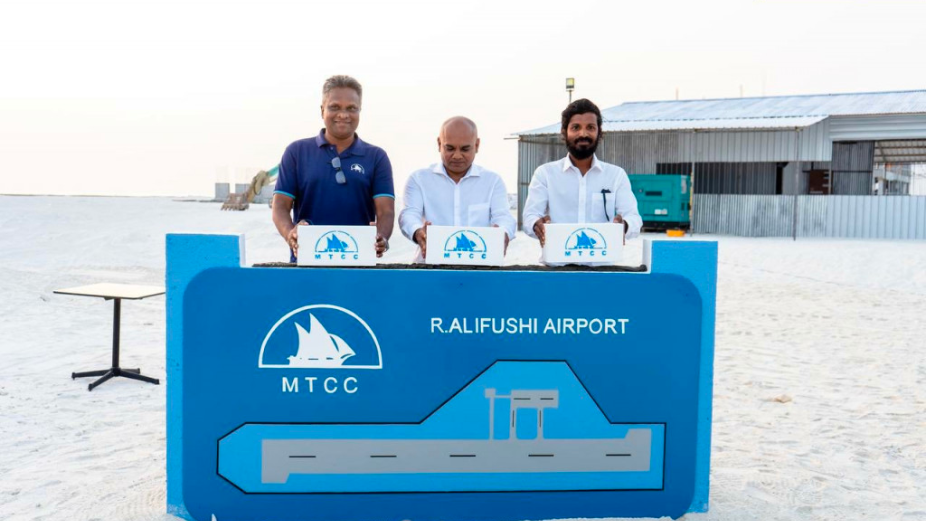 The development of the airport terminal in R. Alifushi has officially been inaugurated by Maldives Transport and Contracting Company (MTCC).
President of the Alifushi Island Council Adam Imran and Parliamentarian Mohamed Rasheed Hussain were present for the groundbreaking ceremony in Alifushi, along with MTCC CEO Adam Azim.
In September 2021, MTCC was awarded the contract for constructing Alifushi Airport. After the land reclamation project was finished, MTCC started building the airport's structures. According to MTCC, 10 hectares of land would be used for housing and business operations on the island, while 50 hectares will be used for the airport area. The construction of the fire building and shuttering and bar banding of the fire pond are currently underway.
The project's scope includes 50.5 hectares of reclamation work, a 2,871-meter revetment, a 480-meter groyne, a 1,500-meter runway, an apron, a taxiway, and service roads, as well as the construction of a terminal building, a fire building, the installation of firefighting equipment, and a 655-meter security fence. The airport development area's shoreline protection is another aspect of it. The project has a two-year deadline and a price tag of more than USD 30 million.
With 3,000 inhabitants, Alifushi is a small island in Raa Atoll that is far from neighbouring islands and Ifuru Airport. Alifushi Airport will be the second island to be built in the atoll.