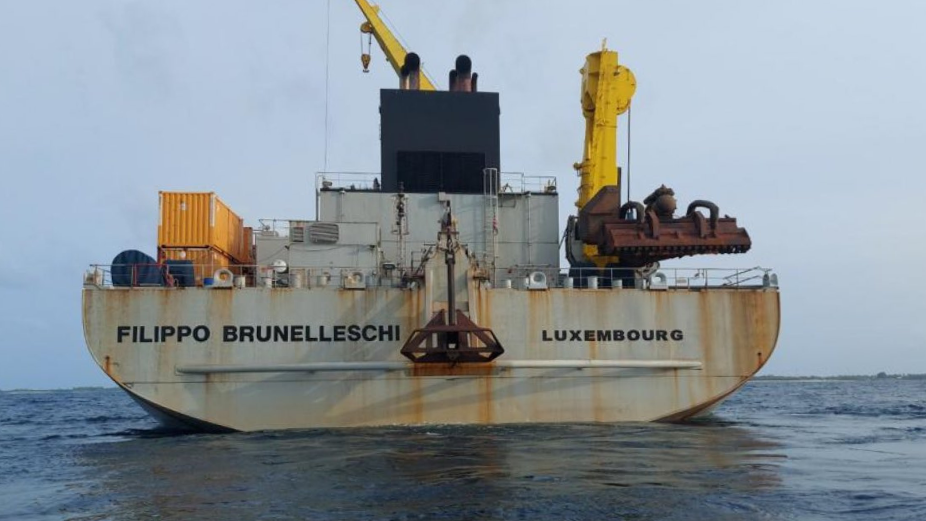 The Maldives Transport and Contracting Company (MTCC) has recently secured the rental of a state-of-the-art dredger, capable of reclaiming one hectare of land per day.
The vessel, named Filippo Brunelleschi and owned by a Belgian company, arrived in Maldives and is currently docked at HA. Uligan, pending customs clearance. Upon the fulfilment of the required clearance procedures, the dredger is set to commence work at HA. Ihavandhoo.
With dimensions measuring 142.5 metres (467 feet) in length and 27.5 metres (90 feet) in width, the Filippo Brunelleschi boasts a hopper capacity of 11,300 cubic metres, enabling efficient and swift dredging operations.
MTCC has identified nine islands that will benefit from the deployment of the new dredger. These include Sh. Komandoo, Aa. Ukulhas, Aa. Bodufolhudhoo, R. Ungoofaaru, M. Dhiggaru, F. Feeali, K. Dhiffushi, and K. Gulhi. According to MTCC CEO Adam Azim, the dredging work for these islands is scheduled for completion by October of this year.