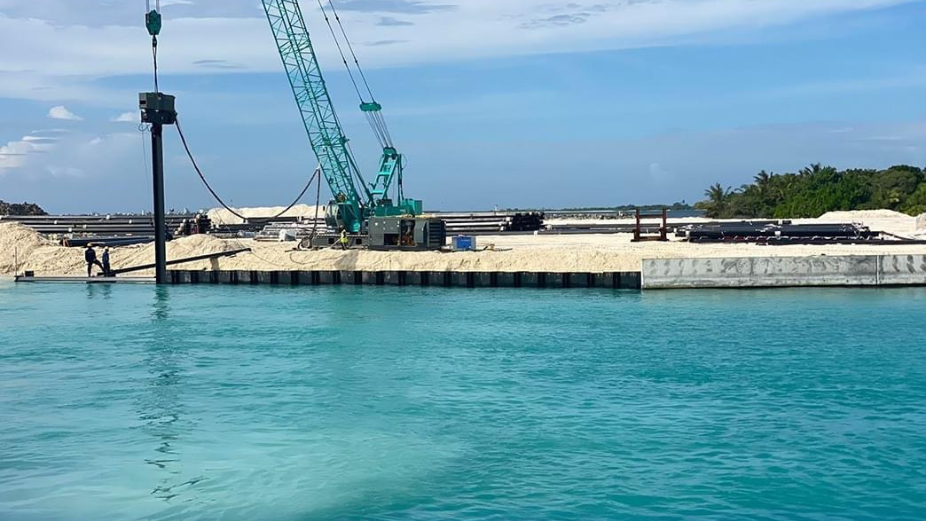 Maldives Transport and Contracting Company (MTCC) has provided updates on three infrastructure development projects.
Firstly, the Lh. Felivaru land reclamation & harbor development project is currently under way with an overall 51% Project Completion. MTCC has completed quay qall concrete works and revetment construction work is at 93% completion. Currently, sheet pile installation works are ongoing at the site.
Scope of works for this project valued at MVR 113.3 million include, reclamation operations of 6 hectare; dredging operations of 229,663.36cbm; construction of a 220m quay wall; a 148m breakwater; a 270m revetment.
Next, MTCC has also commenced the installation of sheet piling works on October 22nd, 2022, for the MNU maritime survival center development project. Scope of works include, 1,200cbm land filling works, construction of 62.25m quay wall, construction of a ramp and installation of mooring bollards.
Lastly, Aa. Maalhos harbor development project is under way with overall 66% project completion. Quay wall block installation is currently ongoing at the site with 41% completion.
Scope of works for this project worth MVR 56.9 million involve, dredging and excavation operations of 24,335cbm, construction of a 394m quay wall, a 407m breakwater, a 100m revetment, a 56m groyne, installation of 1970sqm harbor pavement, construction of a ramp and installation of harbor lights.