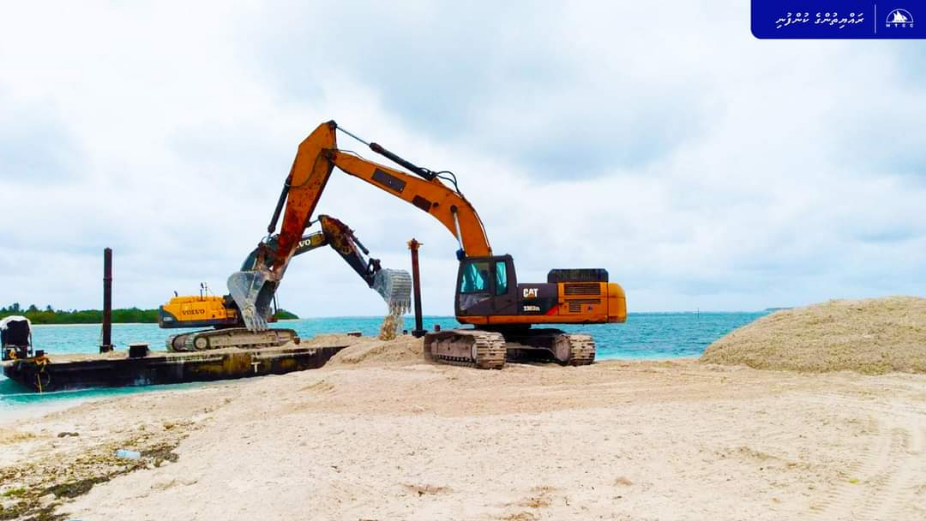 Maldives Transport and Contracting Company (MTCC) has provided updates on 3 infrastructure development projects.
Firstly, MTCC has commenced construction of bund wall in preparation for reclamation operations of R. Alifushi Land Reclamation and Airport Development Project.
Scope of works involve reclamation operations of 50.5 hectares, construction of a 2871m revetment, a 480m groyne, construction of runway, apron, taxiway, and service roads, terminal building, fire building, installation of firefighting equipment and a 655m security fence. The value of the project is MVR 451.6 million.
MTCC has also mobilized Th. Hirilandhoo Land Reclamation and Shore Protection project site on 23rd May 2022. Scope of works include 25 hectares of dredging and reclamation operations, construction of a 1080m rock boulder revetment and a 80m groyne. The value of the project is MVR 105.19 million.
Lastly, MTCC revealed that maintenance dredging operations of harbor basin for Ha. Baarah Channel and Maintenance Dredging Project are ongoing, with 75% completion. Scope of works include channel dredging operations of 28,101cbm and installation of navigational lights. The value of the project is MVR 12.17 million.