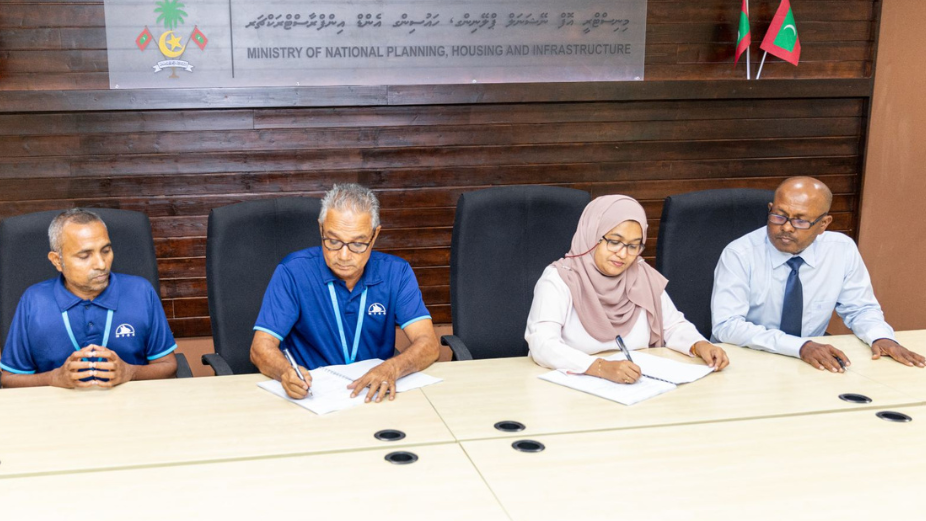 Maldives Transport and Contracting Company (MTCC) signed agreements with the Ministry of National Planning, Housing, and Infrastructure for projects in five islands including AA. Himendhoo, HA. Uligamu, HA. Thuraakunu, HA. Kelaa, and HA. Dhihdhoo.
The contracts were officially sealed in a ceremony attended by MP Hassan Zareer, where MTCC's Chief Operating Officer, Shahid Hussain Moosa, and the Ministry's Director-General, Fathimath Shaana Farooq, signed the respective agreements.
The first project, the AA. Himendhoo Shore Protection Project has been set in motion to fortify the island's coastal resilience. The comprehensive plan includes beach nourishment operations of 43,200 cubic meters, along with the construction of a 110-meter revetment, a 235-meter geobag revetment, a 240-meter groyne, and a 20-meter geobag groyne. The total value of the project stands at MVR 24.54 million.
The HA. Kelaa Channel Dredging and Breakwater Upgrading Project aim to enhance the island's harbour infrastructure. MTCC's scope of work encompasses maintenance dredging operations of 16,632 cubic meters and channel dredging operations of 57,750 cubic meters. Additionally, the project involves the construction of a 36-meter revetment, a 20-meter groyne, a 309-meter geobag breakwater, and the installation of navigation lights. The allocated budget for this initiative amounts to MVR 16.91 million.
The HA. Uligamu Harbor Development and Shore Protection Project seek to optimize the island's harbour facilities. The comprehensive plan includes 10,400 cubic meters of maintenance dredging, 46,181 cubic meters of harbour expansion dredging, and 21,708 cubic meters of channel dredging. Furthermore, MTCC will be responsible for constructing a 238-meter breakwater, a 180-meter revetment, a 300-meter groyne, a 183-meter sand-filled outer breakwater, a 162-meter sand-filled inner breakwater, a 238-meter quay wall, installation of mooring buoys, and other essential components. This ambitious project is estimated at MVR 73.88 million.
The agreement also includes the HA. Thuraakunu Land Reclamation and Shore Protection Project. For this project, MTCC will conduct sand search surveys and reclaim 8.16 hectares of land, along with the construction of a 1215-meter revetment. The budget for this crucial development is MVR 152.04 million.
MTCC will also spearhead the HA. Dhihdhoo Land Reclamation Project, focusing on conducting a sand search survey and reclaiming 26 hectares of land. The allocated budget for this project is MVR 83.07 million.
The developments are expected to progress steadily, potentially bringing a positive impact to the communities and environment of the Maldives.