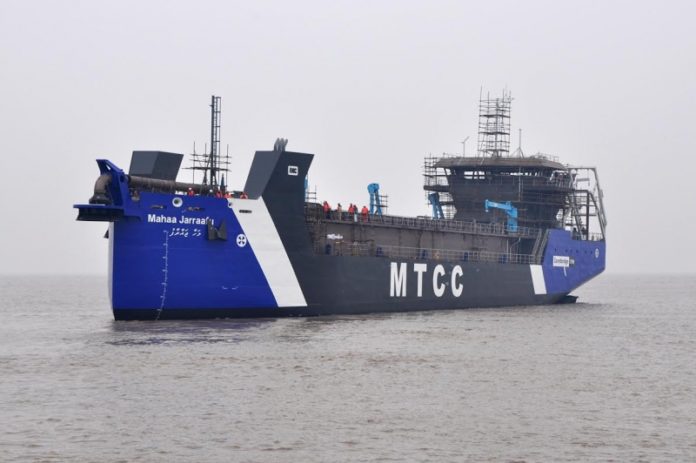 "Mahaa Jarraafu", Maldives Transport and Contracting Company's (MTCC) colossal hopper suction dredger which is expected to reach Maldivian ports by October 25, has been approached for a land reclamation project from Malaysia.
In a press conference held by MTCC on October 22, CEO Ibrahim Ziyath confirmed that they have received a comprehensive offer from a Malaysian company, to utilize the vast dredger for a land reclamation project in Malaysia.
"We have received an inquiry from an interested Malaysian party. We are confirming the arrangement through the Malaysian embassy as well. It is a deal for 50 million CBM and we are very excited about this. We have already received two projects from Maldives" Ziyath said.
Earlier the dredger was scheduled to arrive in Maldives on October 30 but the date has been changed to October 25th now.
Upon reaching Maldives, the 'Mahaa Jarraafu' will be dispatched to the northern hub, Hdh. Kulhudhuffushi, where it will operate on a land reclamation project for the planned airport development project.
MTCC confirms that under this project, the dredger would reclaim an area of 8 hectors from the clay pond (861113 square feet) and another 5 hector (538196 square feet) section from the shoreline along the pond. The project is expected to be completed within 180 days.
Initially, in the first two years, expatriate workers will be operating the dredger while training will be given to local workers, who will replace them once the relevant training is completed.
"Currently there are three dredging vessels in MTCC's vessel assets. But this is the first hopper dredger to join the fleet. We are using cutter dredgers now and we have already completed two resort projects.' Ziyath noted.
The hopper suction dredger measures 92.95 meter in length and 16.30 meters in width. The 'Mahaa Jarraafu' boasts the capability of dredging from 50 meters underwater and it can easily collect remarkably 3700 cubic meters of sand.
MTCC's cheque-book registered an amount of USD 36 million dollars into the making of the dredger, with Netherland's IHC taking the responsibility of crafting the vessel at China's "Nang-Ton Rainbow Marine Technology Boat Yard.
The CEO expects that the investment will be recovered within a period of 10 years.
Following Kulhudhuffushi land reclamation project for airport development, the dredger is set to operate at Shaviyani Atoll Fonadhoo for a similar project of land reclamation which accounts for an area of 21 hectors being reclaimed while the whole project will cost MVR 52.9 million.
Meanwhile, MTCC has also opened additional share purchases for shareholders in order to solicit the dredger's investment.