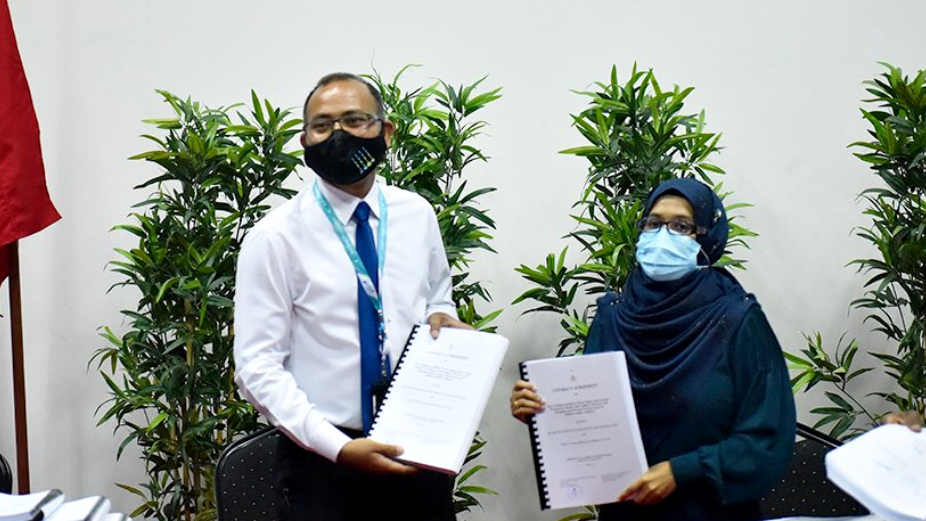 Male' Water and Sewerage Company (MWSC) has been contracted to establish about MVR 1.5 billion worth of water and sewerage systems across the Maldives, funded by the state budget and OPEC fund.
In a ceremony held on Sunday at Dhivehi Raajjeyge Adu, Director General of the Ministry of National Planning, Housing and Infrastructure, Fathimath Shana Farooq signed on behalf of the state, while Managing Director of MWSC Hassan Shah signed on behalf of the company.
MWSC landed projects to establish water and sewerage systems on 15 islands across the country, along with water systems in 5 islands. The company was also tasked with the development of water and sewerage systems in Baa Atoll and Gaafu Dhaalu Atoll, funded by the OPEC Fund for International Development (OFID).
The projects contracted by the Planning Ministry were worth MVR 1.3 billion, while MWSC estimates that the projects funded by OFID will cost MVR 216 million. This makes for a total of about MVR 1.5 billion.
According to Shah, the state-funded projects will start immediately. The water and sewerage systems are scheduled to be completed within 18 months, while the water systems are to be completed within 15 months.
The OFID funded projects, on the other hand, will commence at a later date with a completion period of 2 years.
Projects funded by the state
Water and sewerage system at Hdh. Kumundhoo: MVR 102.17 million
Water and sewerage system at N. Maafaru: MVR 94.42 million
Water and sewerage system at Sh. Goidhoo: MVR 86.05 million
Water and sewerage system at Lh. Olhuveliushi: MVR 80.08 million
Water and sewerage system at Ha. Vashafaru: MVR 78.92 million
Water and sewerage system at Ha. Thakandhoo: MVR 76.45 million
Water and sewerage system at Ha. Maarandhoo: MVR 72.81 million
Water and sewerage system at AA. Feridhoo: MVR 69.33 million
Water and sewerage system at Hdh. Hirimaradhoo: MVR 69.14 million
Water and sewerage system at R. Fainu: MVR 63.34 million
Water and sewerage system at B. Maalhos: MVR 60.45 million
Water and sewerage system at AA. Himandhoo: MVR 65.83 million
Water and sewerage system at N. Fohdhoo: MVR 58.15 million
Water and sewerage system at B. Kamadhoo: MVR 56.66 million
Water system at R. Innamaadhoo: MVR 50.77 million
Water system at Sh. Feevah: MVR 49.60 million
Water system at Ha. Muraidhoo: MVR 46.85 million
Water and sewerage system at Adh. Kunburudhoo: MVR 45.12 million
Water system at N. Henbandhoo: MVR 41.36 million
Water system at AA. Mathiveri: MVR 38.83 million
Projects funded by OFID
Water and sewerage system at Gdh. Vaadhoo
Water and sewerage system at Gdh. Fiyoari
Water and sewerage system at B. Kendhoo
Water and sewerage system at B. Dharavandhoo