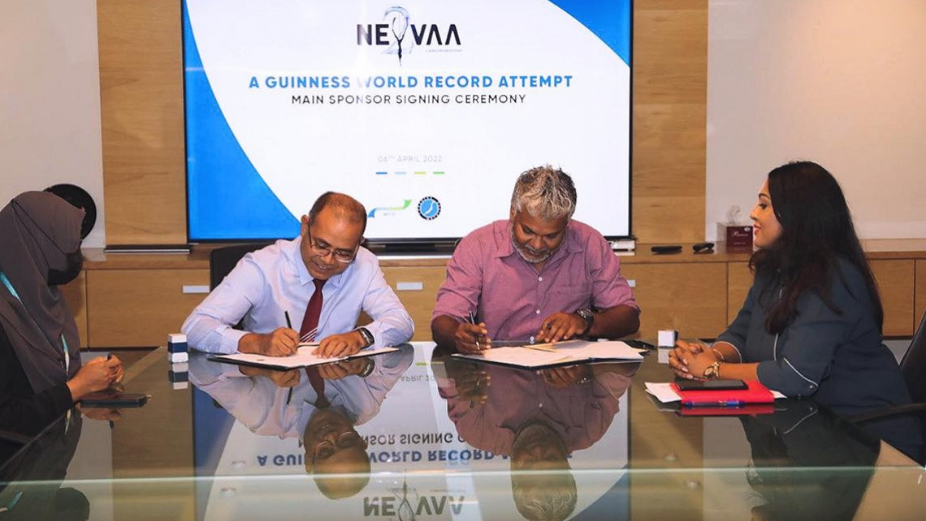 Male' Water and Sewerage Company (MWSC) has signed as the main partner for the 'Neyvaa 2' event, a new world record attempt organized by Freedive Maldives.
Neyvaa 2 is an attempt to break a new world record for the most number of people performing static apnea simultaneously. Static apnea is a discipline where the freediver holds their breath for as long as possible with his nose and mouth immersed while floating on the surface of the water. Static apnea is the only discipline based on time of breath-hold and not distance. Neyvaa 2 will execute static apnea as a group performance from all over the Maldives with multiple locations across the archipelago at the given time.
The event is scheduled to take place on 1st October 2022, as part of the celebrations of this exceptional year marking 50 years – the Golden Jubilee celebration of tourism in the Maldives.
Organized by Freedive Maldive – the first local Freedive centre and instructor training centre in the Maldives, this event is open for participants from all resorts. All participants (staff and guests included) from the resorts will be given the proper four-day training programme, which includes static apnea training, safety diver training and training the trainer. The main requirement to take part in the event is to hold your breath underwater for about 2 minutes, which does not necessarily require any previous diving or swimming skills.
For more information, please email freedivex@gmail.com and follow Neyvaa 2 on Instagram for the latest updates.