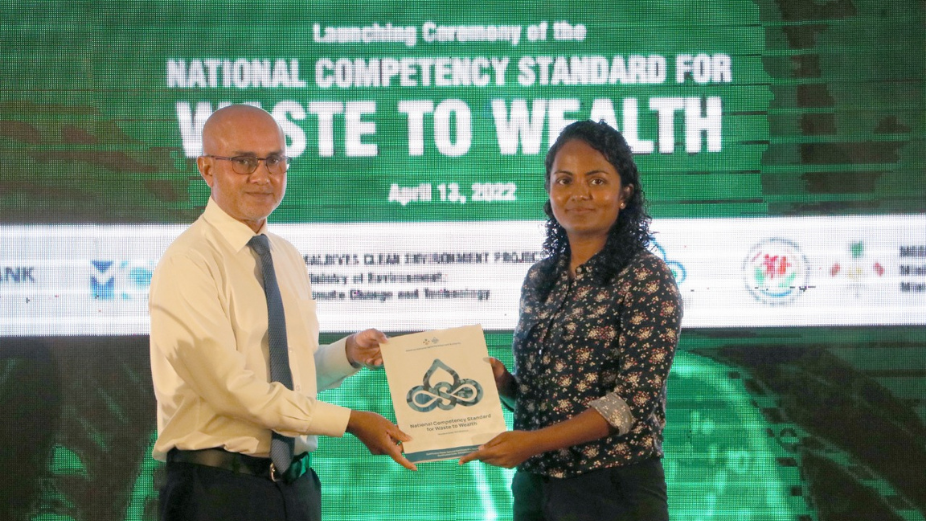 The Maldives has launched a national competency standard for waste to wealth.
The standard was launched by the Minister of Environment, Climate Change and Technology, Aminath Shauna at a special ceremony held at Hotel Jen. Speaking at the ceremony, Minister Shauna said that skilled locals in communities across the Maldives must be developed to safely manage all the waste created in the country. In addition to the information on how to carry out this, a workforce should be also established at each council in the local islands.
The national competency standard was compiled with the help of Maldives National Skills Development Authority (MNSDA) under the World Bank-funded Maldives Enhancing Employability and Resilience (MEERY) project and is included in the waste to wealth training package.
Minister of Higher Education, Dr. Ibrahim Hassan stated that the training package includes the standard, an assessment resource book, learning materials and student log book. The waste to wealth training package is the 104th package by MNSDA to provide technical and vocational training. Over the next 1.5 years, 70 more national competency standard packages will be developed and 53 standards currently in use will be revised.
The national competency standard for waste to wealth, launched today is to help promote sustainable development in the Maldives and MNSDA is an important resource shared by the government in this regard said Ahmed Nasheed, Chief Executive Officer of MNSDA. Nasheed said that under the standard, the standards required for waste generation and waste management will be determined and those who pass the training will be given a national qualification approved by the Maldives Qualification Authority.