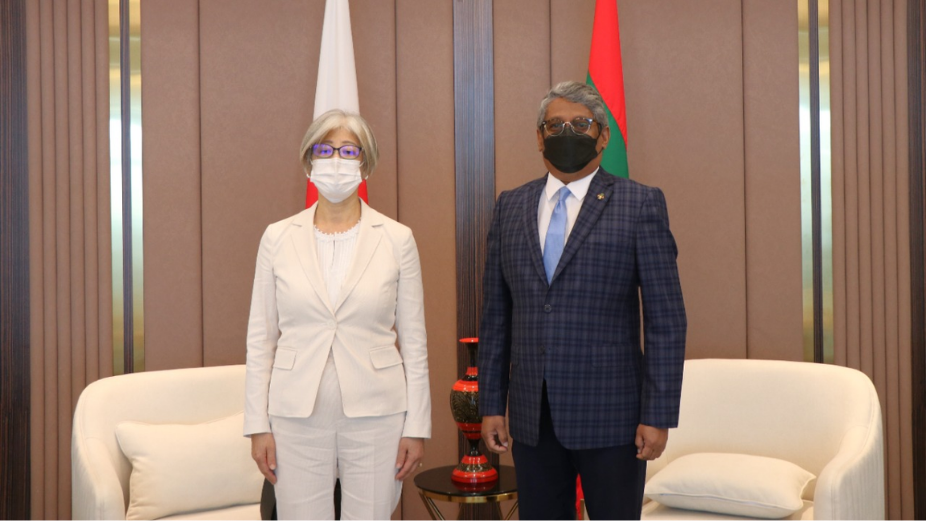 Ambassador of Japan to the Maldives, Her Excellency Takeuchi Midori called on the Minister of State for Foreign Affairs His Excellency Ahmed Khaleel, at the Ministry of Foreign Affairs yesterday. Ambassador Takechi presented her credentials to President Ibrahim Mohamed Solih at a ceremony held at the President's Office on 20 January 2022.
During the meeting, State Minister Khaleel congratulated the Ambassador on the presentation of credentials to the President, and expressed confidence that the long-standing ties between the two countries will be further strengthened during her tenure.
State Minister Khaleel expressed his profound appreciation for the continued assistance and co-operation received from Japan towards the socio-economic development of Maldives, especially during the fight against the Covid-19 pandemic.
State Minister Khaleel expressed his intention to take the 55th anniversary of the establishment of diplomatic relations this year as an opportunity to further elevate the Maldives-Japan relations to greater heights. Ambassador expressed her heartfelt gratitude for the warm welcome she received and stated that she is determined to strengthen bilateral cooperation between the countries.
State Minister was accompanied by Javed Faizal, Additional Secretary, Fathimath Naeema, Executive Director and Mohamed Shujau, Desk Officer at the Ministry of Foreign Affairs.