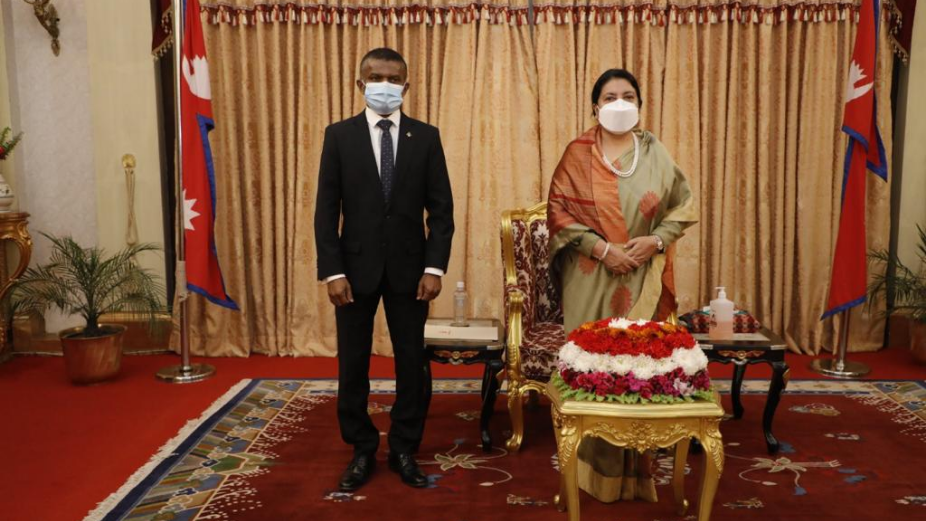 The new Non-Resident Ambassador of Maldives to Nepal, His Excellency Dr. Hussain Niyaaz, presented his Letter of Credence to Her Excellency Mrs Bidya Devi Bhandari, President of Nepal, at a ceremony held at the Office of the President of Nepal – Rashtrapati Bhawan.
During the ceremony, President Mrs Bidya Devi Bhandari congratulated Ambassador Niyaaz on his appointment and expressed confidence that the Ambassador will work to reinforce the close ties between Maldives and Nepal. Ambassador Dr. Niyaaz conveyed greetings and good wishes from His Excellency President Ibrahim Mohamed Solih and the people of the Republic of Maldives to the Government and the friendly people of Nepal.
Ambassador Dr. Niyaaz expressed sincere appreciation on behalf of the Government and the people of the Maldives for the continued assistance from Nepal in the socio-economic development, in particular in the health sector of the Maldives. As the newly accredited Ambassador, Dr. Niyaaz assured his commitment to work closely with the Government of Nepal to further strengthen the close relations between the two countries in areas of mutual interest, during his tenure.
Following the presentation ceremony, Ambassador Dr. Niyaaz will also call on Minister of Foreign Affairs, Foreign Secretary and other key ministers of Nepal, at separate events.