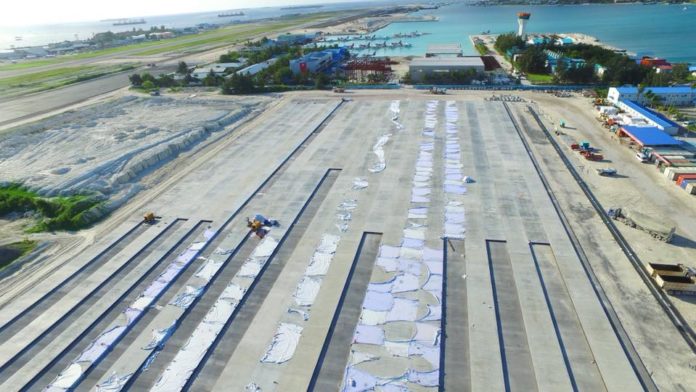 The new runway of Velana International Airport (VIA) is scheduled to be completed by the 30th of August. With the completion of this runway, VIA would no longer have to face the difficulties that arise due to having a single runway for all aircraft movement in the airport.
The construction of a new runway is a part of VIA development plan. China's Beijing Urban Construction Group (BUCG) is in charge of one of the biggest aspects of the project – construction of the new runway, which is 3,400 meters long and 60 meters wide.
According to an official from Maldives Airports Company Ltd (MACL), works for the green area is currently underway. Grass will be grown in the green area by planting seeds.
The reclamation works of the project was assigned to Gulf Cobla Group, whom reclaimed 60 hectares of land and laid 3,300 meters of sheet pile.
Managing Director of MACL, Adil Moosa stated that although they faced difficulties due to working at an operating airport, the flight operations at VIA was not hindered in any way.
Once the new runway is open and operational, the existing runway will be used as a taxi-way for aircrafts. MACL expects aircrafts to get clearance for landing 30 minutes ahead of the time it takes the aircrafts to get clearance now.
In addition to the runway, BUCG will be construction a fuel farm, cargo terminal and a brand new apron as well. The project is estimated to cost around USD 400 million.