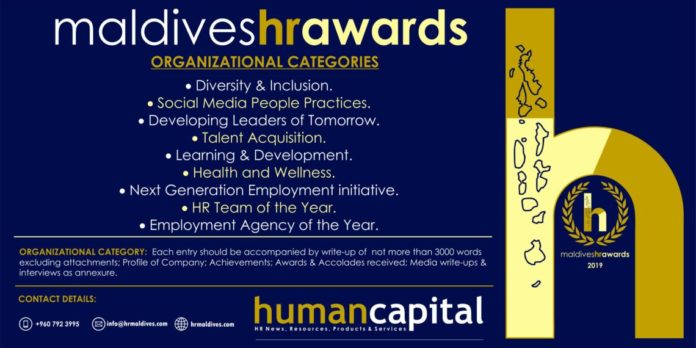 Human Capital has officially opened nominations for the second edition of Maldives HR Awards 2019, organizational categories.
The Maldives HR Awards is the first initiative of its kind in the Maldives and have been instituted as an exemplary platform to recognize organizations that put people first, deliver future-focused excellence in the field of People Management and understand the importance of human capital as a key contributor to business outcomes.
These awards were founded in 2018 on the philosophy to recognize organizations, which have excelled in bringing NEXT into their people practices and empowered HR to become a Strategic Business Partner.
Participation is open to organizations operating in any of the industry segments in the Maldives.
The Organizational Awards recognize excellence in the following categories;
* Diversity & Inclusion
* Social Media – People Practices
* Developing Leaders of Tomorrow
* Talent Acquisition
* Learning & Development
* Health and Wellness Initiative
* HR Team of the Year
* Next Generation Employment initiative
* Employment Agency of the Year
Deadline for nominations close on 10th August 2019
For more details, email at info@hrmaldives.com or call at +960 7923995. Nomination forms are available at www.maldiveshrawards.com