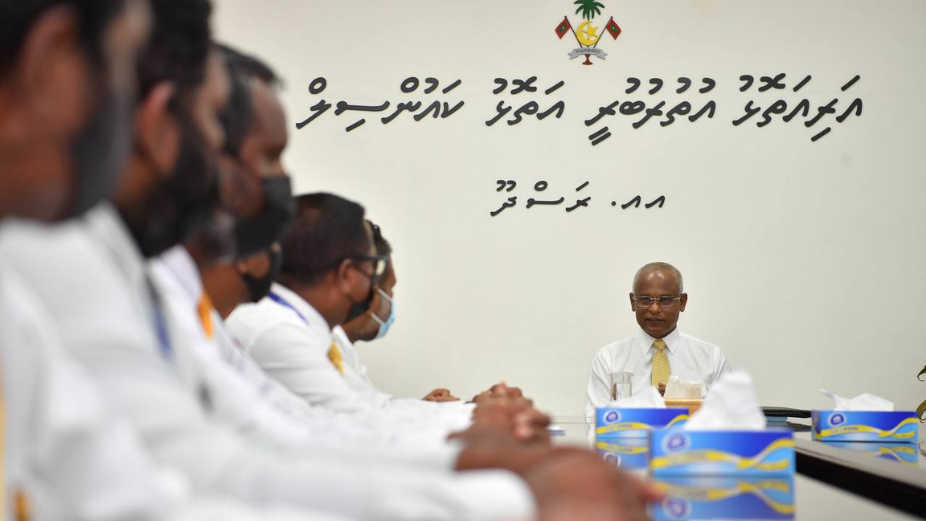 President Ibrahim Mohamed Solih has held discussions with the members of the North Ari Atoll Council, outlining key issues including the Atoll Hospital Development Project. The meeting was held at the Secretariat of the North Ari Atoll Council in Rasdhoo Island.
The Atoll Council briefed the President on the development plans for North Ari Atoll and relayed details of several concerns and pressing issues faced by residents of the Atoll. They focused on struggles confronted by the Atoll Council as a result of a lack of funds, adding that they require additional revenue-generating opportunities and requesting the President to assist them in doing so.
Furthermore, the members of the Atoll Council requested for the Atoll Hospital Development project to be initiated sooner, stressing problems faced currently as a result of the delay in initiating work on the Solar Power Project. Noting concerns regarding revenue generation from the Atoll Shop, councillors requested the aid of the President to facilitate the acquisition of the income to the Atoll Council. The councillors further underlined challenges in daily operations due to a lack of administrative staff. They also relayed difficulties faced due to the lack of a sea ambulance in the Atoll, as well as the concerns about Madivaru Finolhu, underlining their priority to develop all islands of the Atoll equally and the importance of having a Dhaftharu.
Speaking at the meeting President Solih stated the government would take necessary action after discussing with the line ministries and tackle the concerns raised in the meeting. In response to the Atoll Council's concerns, the President stated that the hospital development project will be carried out with financial assistance from the State of Kuwait. He further said that the government would supply sea ambulances to the North Ari Atoll next year and that the government is currently working on a Dhaftharu that contains the aggregated data from all islands of the Maldives in one place.
Rasdhoo Island is the President's second destination on his two-day trip to six islands of North Ari Atoll. President Solih is accompanied on this trip by a delegation of cabinet ministers and senior officials from the government.