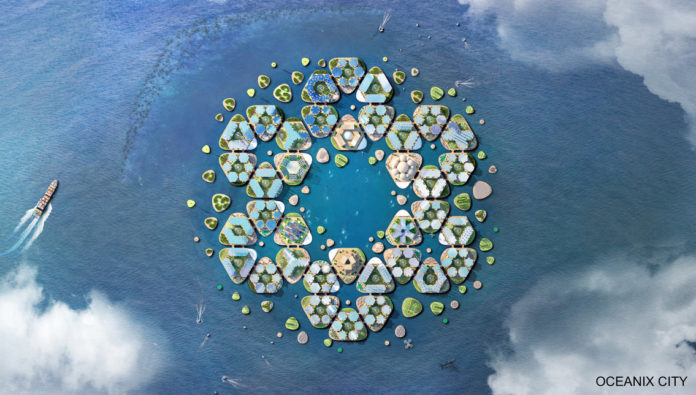 Speaking at a United Nations roundtable, a group of builders, engineers and architects at Oceanix, a company that builds floating structures announced that they have plans to build a floating city. " Everbody on the team actually wants to get this built," CEO of Oceanix, Mr. Marc Collins said."We're not just theorizing."
The city will be in the shape of a hexagon and is targeted to house approximately 10,000 individuals. The buildings in the city will not exceed seven levels. It would produce its own power, fresh water, and heat. Pneumatic trash tubes would carry trash to a sorting station where it could be identified and recycled. Farming will be done underwater in order to produce necessary food such scallops, kelp and other forms of seafood for the city.
The city will be moored to the ocean floor by a material named Biorock which is created by exposing underwater minerals to an electric current. This forms a substance three times harder than limestone and which can repair itself as long as it is exposed to the current. The city could also contain an aquifer system so that clean water can be pulled out of the air and condensed to make pure water.
There are similar projects being carried out in the Maldives by Dutch Docklands International. One such project is ' The Ocean Flower ', which was named after a typical Maldivian flower, as part of a series of five oceanfront developments in the Maldives. The first phase of the magnificent 185 waterfront villas are now complete and up for sale, with various facilities such as a pristine beach, a spa, a diving center, small private islands and more.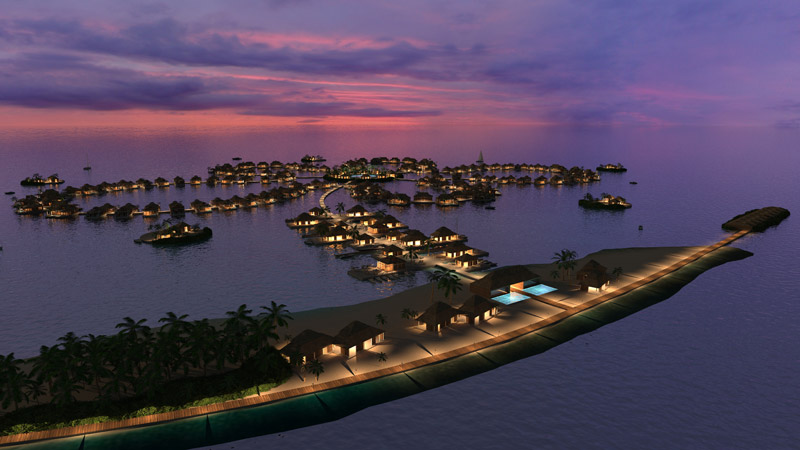 The other venture is the 10 floating islands in Amillarah Private Islands. The islands offer exclusive beaches, pools and natural vegetation decorating the island, giving it a more 'green' look. They are situated 25 minutes by boat from Male City, the capital city of Maldives. The islands offer extreme privacy with a private jetty for docking of yachts and speedboats with a small pavilion at the end. These islands are the epitome of a perfect getaway for anyone seeking privacy from the busy world.
There are more phases of the oceanfront developments on it's way, as part of "The 5 lagoons". With the present illustrations available, it is safe to say that the coming projects will be just as spectacular. Here is to hoping that companies from all over the world will find these projects to be an inspiration to initiate their own ones in the Maldives or in their respective countries.