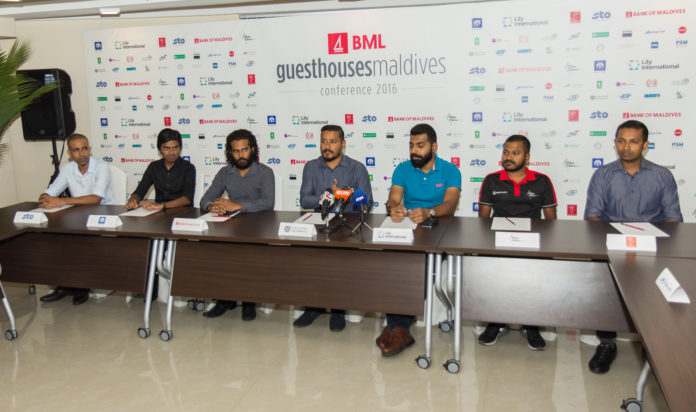 The official press conference of BML Guesthouses Maldives Conference 2016 was held last night by Maldives Getaways Pvt Ltd at Champa Central Hotel. All the partners of the event was present in the official panel along with the industry stakeholders and organizers to riposte any queries by the press about this year's Guesthouses Maldives Conference.
The partners highlighted the importance of this conference & how they will help to reach the main target to attract 500,000 tourist arrivals by 2020 to guesthouses. The event will be attended by leading travel agents from MATATO and OTA's like booking.com, Expedia, Makemytrip etc.
The first travel trade show of the Visit Maldives Year 2016 will be held on 24th September at Dharubaaruge. With a total of more than 150 guesthouse owners, 15 partners, 5 endorsing partners along with 30 leading travel agents & OTA will be attending this special conference.
This is an invitation only event with participants carefully selected, personally invited and verified against our strict qualification criteria. One day of pure business where we will have a full programme of events scheduled from morning to evening allowing you the opportunity to engage with existing and new prospects.
Started in 2014, Guesthouses Maldives the only magazine & conference promoting and providing all essential services to the guesthouse industry. Currently there are over 400 guesthouses in 80 islands of Maldives with 5000 bed capacity.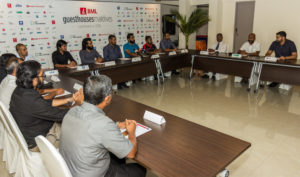 Partners of BML Guesthouses Maldives Conference 2016
Title Partner: Bank of Maldives
Main Partner: Lily International
Premium Partner: Hassan Marine Engineering Solutions
Telecom Partner: Dhiraagu
Premium Partner: STO
Insurance Partner: Allied Maldives
Printing Partner: M7 Print
Boat Building Partner: Alshaali Marine Maldives
Guest Ameneties Partner: The Guest
Jetski Partner: SeaDoo
Fuel Partner: FSM
Gas Partner: Maldives Gas
Airline Partner: Mega Maldives
Beverage Partner: Coco Cola
Office Automation Partner: Copier Plus
Event Partner: Event Maldives
Endorsing Partner: MMA, MMPRC, MATI, UNWTO, MATATO, Ministry of Economic Development
Media Partners: Avas, Corporate Maldives, PSM