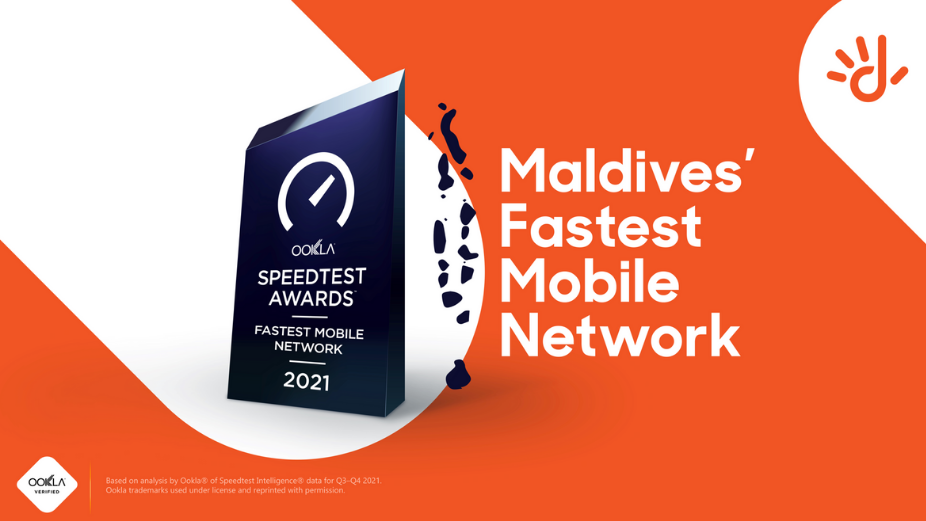 Ookla® announces Dhiraagu as the Maldives' Fastest Mobile Network' winner in the Speedtest® awards for Q3-Q4 2021.
Dhiraagu is the largest and leading digital and telecom service provider in the Maldives who has been successfully providing 100% mobile 4G coverage across all inhabited islands, resorts and industrial islands. This premium recognition is a true testament to the continued efforts to uplift customers digital experience and enrich lives of the people living in the Maldives.
According to results from tests taken using Ookla Speedtest®, Dhiraagu's mobile network continued to lead the local market in the second half of 2021 achieving the fastest download and upload speeds. Ookla® is the global leader in mobile and broadband network intelligence, testing applications and related technologies. Speedtest, Ookla's flagship network testing platform, collects hundreds of millions of measurements about the performance and quality of networks around the world each day.
"Speedtest Awards, presented by Ookla, are reserved for an elite delegation of network operators that have delivered exceptional internet performance and coverage within a market. It is our pleasure to present Dhiraagu with the award for Fastest Mobile Network in the Maldives. This recognition is testament to their exceptional performance in Q3-Q4 2021 based on Ookla's rigorous analysis of consumer-initiated tests taken with Speedtest." Attributed to Doug Suttles, CEO at Ookla.
"We are delighted to receive this prestigious recognition from Ookla®. I am especially proud of our hardworking team who has gone the extra mile to reach this great milestone by providing a superior experience to our customers. I would also like to take this opportunity to thank our customers for the trust that they have placed in us" stated Ismail Rasheed, CEO & MD at Dhiraagu.
Dhiraagu continues to play a pivotal role in enriching lives and empower people through building strong, inclusive digital communities.