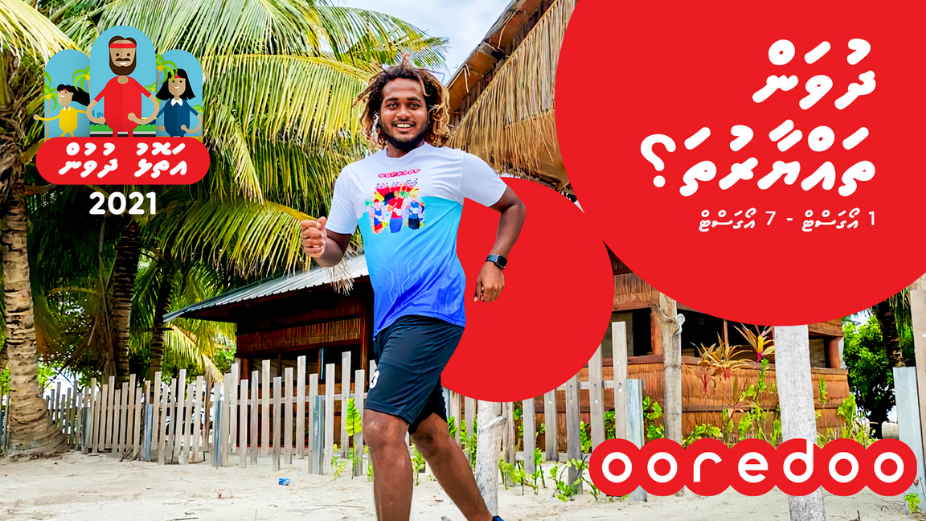 Ooredoo Maldives today announced that Ooredoo Atholhu Dhuvun 2021 will be held from 1st – 7th August 2021 and opened for registrations via Ooredoo Atholhu Dhuvun Portal: ore.do/regstr.
This fun virtual run was first held in 2020 as part of Ooredoo's anniversary celebrations, with over 5000 runners joining in nationwide and from across the globe. Ooredoo continues the tradition with Ooredoo Atholhu Dhuvun 2021, now celebrating their 16th year in the Maldives. Runners can join from anywhere, be it individually or with friends and family, while abiding by HPA guidelines.
This years' run features two categories where participants can complete 5km, 10km or both. Participants who wish to complete both runs should register and complete both distances separately. Participants can join the virtual run from wherever they are and complete the run whenever they want between 1st Aug 2021 to 7th Aug 2021.
"Ooredoo Atholhu Dhuvun was first held as part of our 15th anniversary celebrations last year, to promote a sense of unity and togetherness while having to stay apart during the pandemic last year. We wanted to host an event where everyone can participate while abiding by the required social distancing guidelines. We are excited to continue this virtual run as we celebrate our 16th year with the people of Maldives and hope to see people from all corners of the nation joining in the fun" said Hussain Niyaz, Chief Commercial Officer of Ooredoo Maldives.
To encourage as many people to join in the fun from anywhere, Ooredoo Maldives has kept the registration free of charge. Registered runners will receive a digital BIB number and a confirmation message with a unique URL to upload a screenshot of the completed run route to verify their run and claim the digital finishers medal. Runners will need to track their run with any of our recommended Apps, which are Strava, Garmin Connect, Runtastic, Nike Run Club and Runkeeper. Participants will also get the opportunity to upgrade their digital medal to a physical one, which can be delivered to homes nationwide via Moolee.
Ooredoo is excited to welcome running enthusiasts and everyone who is interested in a good time, to be a part of this nationwide virtual run, the biggest event of the year. Interested participants should register for the run before 1800hrs of 27th August 2021.
To get more information about the run, please visit https://www.ooredoo.mv/atholhu-dhuvun/ and follow us on Ooredoo Maldives ' social media pages.