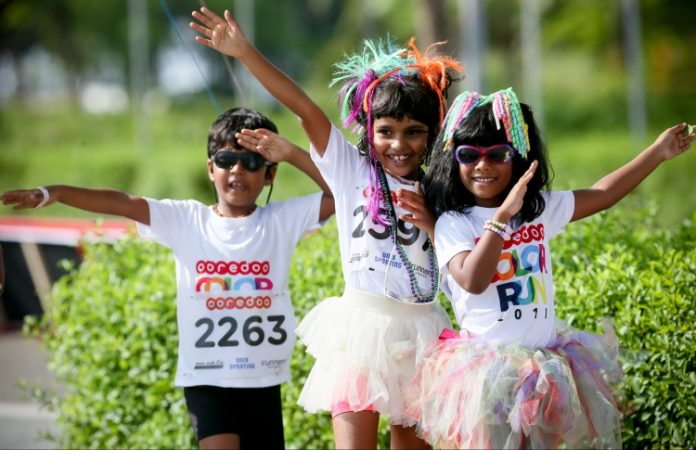 Ooredoo Maldives has announced exciting updates to its annual Color Run weekend, with exciting festivities including a kite festival, a morning at the beach and a star-studded music show. With the new update, the weekend's program is as follows:
Ooredoo Moodhu Majaa
Friday, 29th November 2019 from 8.00 – 10.00 am.
A new entry to the Ooredoo Color Run weekend, Moodhu Majaa brings the community together for a fun morning at the beach, with beach activities and exciting water sports. Our partnering cafes will also provide the opportunity to have breakfast on the beach, and local favorites such as ambu majaa and maskaashi.
Ooredoo Gudi Mahaasama
Friday, 29th November 2019 from 4.00 – 6.00 pm.
This kite festival aimed to revive the wonderful tradition of flying kites with family and friends in the Maldives. The event includes fun displays, a kite workshop, a kite flying competition and an exciting bols race. Pre-registration is not required to participate in the kite festival.
Ooredoo Color Run
Saturday, 30th November 2019 from 3.30 – 6.00 pm.
The fun-filled 5K aims to promote running as a fun way to achieve a healthy and active lifestyle. Filled with color and non-stop fun, each kilometre covered during the Ooredoo Color Run is rewarded with a burst of color powder at the color station, and songs from incredible music artists. As the run is not a timed event, participants can choose to walk, jog, run or dance to the finish line, where their efforts are celebrated in style with color throws, finisher medals & fantastic music.
The run will now be held on Saturday evening, on 30th November 2019 from 3.30 – 6.00 pm. While only pre-registered participants will be able to receive the winner's medal upon completion of the run, interested runners can join the run in a white t-shirt, and be part of the fun-filled color run experience.
Ooredoo Music Festival
Saturday, 30th November 2019 from 8.30 – 11.30 pm.
Following Color Run, Ooredoo Maldives will be hosting a fun music show from 8.30 pm onwards featuring fan-favorites from the Maldivian music industry including Habeys Boduberu, Mooshan, Zakittey & more.