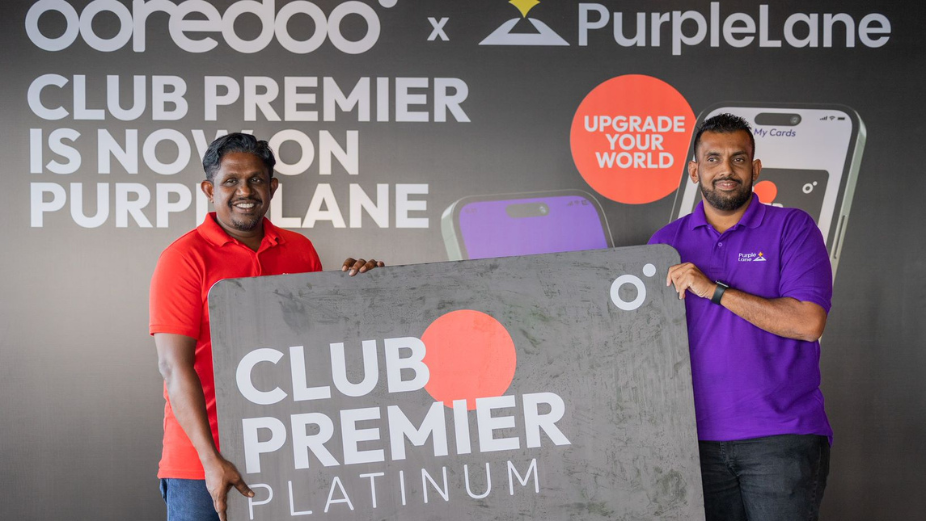 Ooredoo Maldives has announced its partnership with PurpleLane App – a local rewards platform to enhance access to its Club Premier benefits through various platforms.
With this partnership Ooredoo Club Premier members can now view their Club Premier digital card on PurpleLane App along with the Club Premier partner special discounts and offered from these outlets. The service was launched by Ooredoo Maldives Chief Commercial Officer, Hussain Niyaz and co-founders of PurpleLane App, at a special ceremony held at Seahouse Maldives.
"We are delighted to partner with PurpleLane App – a local first of its kind rewards platform in the Maldives with the aim to further enable easy access to Club Premier benefits outside of Ooredoo platforms, as part of our efforts to upgrade our service to the next level. PurpleLane being a rewards platform, the availability of Club Premier benefits will greatly enhance the experience for Ooredoo Club Premier members. Together we will work together to increase our portfolio of partnerships adding more value, special offers and benefits for our Club Premier members." Chief Commercial Officer, Hussain Niyaz.
"Our partnership with Ooredoo Maldives has opened our doors for endless opportunities. The Ooredoo Club Premiers members are now able to earn benefits from our partner stores. This helps both our partner stores and customers to continue using our Loyalty platform to interact, engage and ensure that they are all loved and respected with better service. From converting walk-in customers to regulars, through our easy Rewards Platform, now you can easily show your own loyalty card from our app." Umar Fikry, co-founder of PurpleLane App.
PurpleLane App is a one stop rewards and corporate card aggregator that brings all your cards into one single mobile phone app. PurpleLane gives businesses the tools to issue digital rewards cards to their customers, transfer points among the customers, give quantity bound coupons, issue gift cards to their customers and promote special deals to all the users of the app. Partner stores can roll out their customized rewards program with a few clicks while businesses and corporates can instantly integrate existing programs securely. The points can be redeemed based on customized terms and conditions by the store.
Ooredoo Club Premier reward scheme is an ultimate token of gratitude which was initially launched in 2015 to its most valuable customers giving customers access to special offers and discounts to a number of premium brands and exclusive deals across the globe, especially tailored to customer needs. Club Premier Members receives up to 20% discount from exclusive partners within the Maldives, featuring top brands such as Brandloom, Coffee Lab Maldives, KFC, Mango, Sonee Lifestyle, Kailaan and many more. Members also gets access to the Club Premier Lounge which provides a relaxing environment where they receive an extremely personalised service.
To learn more about Ooredoo Club Premier benefits, visit: https://www.ooredoo.mv/postpaid/club-premier
To Download PurpleLane App, visit: https://purplelane.app/get and website: https://purplelane.app