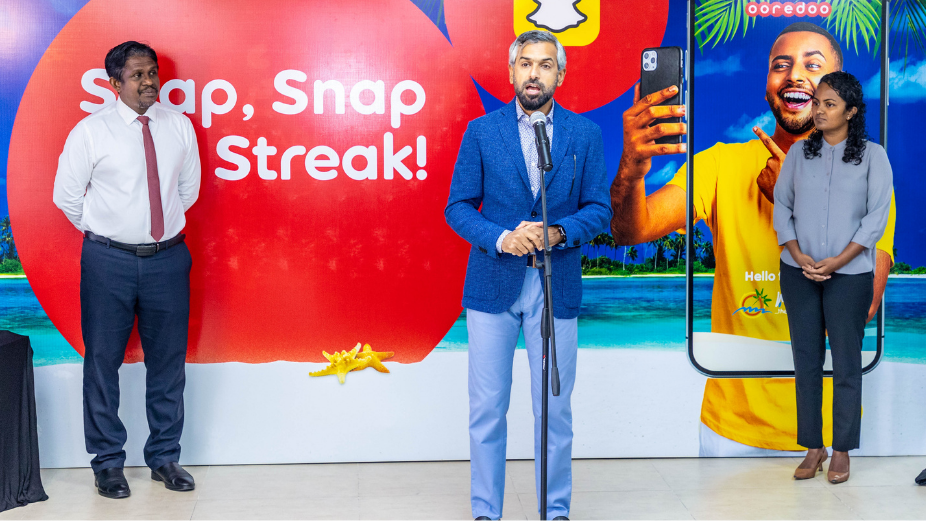 Ooredoo Maldives has announced its partnership with Snapchat, a global camera company, aimed to accelerate the adoption of Augmented Reality (AR) to create unique immersive experiences for customers in Maldives.
Under its 'Visit Maldives Now' campaign that supports national efforts to restore tourism in Maldives in the post pandemic era, Ooredoo Maldives will be leveraging the use of Snapchat Lenses to promote the natural beauty and unique culture of Maldives to its global customers. Snapchat today revealed a dedicated AR lens celebrating the 50th Anniversary of Tourism in Maldives and special geofilter which welcomes visitors to the sunny side of life.
To enable more users to stay connected with their friends and family and have fun while using Snapchat's fun AR tools, Ooredoo Maldives has also introduced new daily, weekly, and monthly data packs dedicated to Snapchat with up to 20GB data. As a part of the strategic partnership with Snapchat, Ooredoo Prepaid customers will receive free 2GB Data valid for 30 days, for Snapchat allowing more customers to experience the wide variety of lenses, filters and Friendmojis available on the platform. To claim the free data, customers can dial *929*1# or send "SNPF" to 5555. The free data for snapchat offer will be valid until the end of June 2022.
"This partnership aims to create innovative experiences for our customers and make augmented reality more accessible to people and businesses across Maldives, enabling them to benefit from the exciting possibilities of AR. The advanced tools of Snapchat can be leveraged to engage and promote our beautiful nation to global communities in fun and unique ways, such as the newly launched AR lens and geofilter to celebrate the Golden Jubilee of tourism in the Maldives." Ooredoo Maldives Managing Director & CEO, Khalid Hassan Al-Hamadi.
"We center our company, and our app, around AR and the camera because we believe this technology can and will do incredible things to enhance lives and how we learn, explore, shop, make art, and more. At Snap, our intent is to make AR more accessible, useful and practical than ever before. We are excited to partner with Ooredoo Maldives and we are committed to democratizing the ability to use AR which will be expanded through our strategic partnerships like these." Carrier Partnerships Manager of Snapchat, Bachir Boumediene.
As Maldives marks its Golden Jubilee Year of Maldives Tourism, the newly introduced filter and frame will be a great addition to the celebration that promotes Maldives and its culture. The "Hello from the Sunnyside" geofilter is designed with elements that represent the natural beauty such as palm trees and the white sandy beaches, and the new AR lens dedicated to the Maldives showcases the unique cultural attire of men and women of the nation.
AR usage is surging globally, Snapchat sees over 6 billion AR Lens plays, and has more than 200 million people engaging with AR every day. Our partnership with Snapchat will enable our customers and businesses to create innovative content, services and increase more engagement with one another. Ooredoo Maldives remains committed to the people of the Maldives and will continue to provide exciting and innovative digital products and services through global partnerships.
For more information, visit: ore.do/snapchat