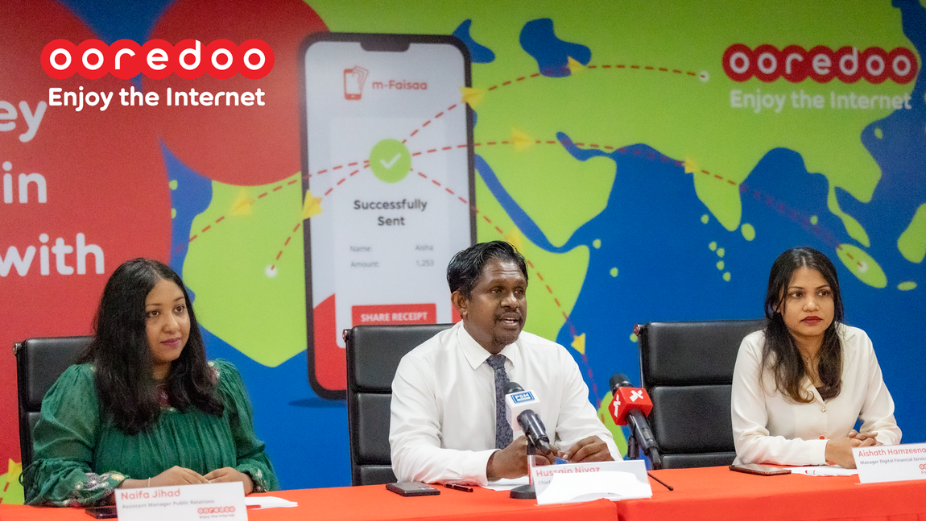 Ooredoo Maldives yesterday announced that trial runs of its International Money Transfer service via m-Faisaa has official begun. Ooredoo Maldives was granted the license to provide payment service required for remittance service in the Maldives earlier this year by the central bank – Maldives Monetary Authority, under the new National Payment System Act.
Since the issuance of the license, Ooredoo Maldives has been working on integrating its systems with its international partners and conducted various testing of the system. The kickstart of its trial phase is a stepping stone to achieve an important milestone by providing the international money transfer service to its m-Faisaa customers, expanding boundaries of mobile money.
The official launch of the service in the coming months will allow m-Faisaa customers to send money to their family and friends across the globe. Customers can send money in Maldivian Rufiyya with real-time transfer directly to their account or digital wallets in either USD or receivers' home currency.
"Today we have reached an important point in our journey to achieve another great milestone. Our aim is to broaden the horizons for our customers through digital solutions. The official launch of international money transfer via m-Faisaa will enable customers to send money across the world from anywhere, anytime, expanding the financial opportunities of the people across the nation." Ooredoo Maldives Chief Commercial Officer, Hussain Niyaz.
Ooredoo Maldives welcomes customers from any network to use m-Faisaa services including international money transfer service. With this project Ooredoo looks forward to continue working closely with Maldives Monetary Authority to provide innovative payment solutions and enhance digital financial services for communities and businesses across the nation.