Ooredoo Maldives has concluded Ooredoo Fun Run on 24th December 2022 with over 5000 participants joining the fun activities of this first-of-its-kind run held in the Maldives. Ooredoo Fun Run is the upgraded run of the annual Ooredoo Color Run with the addition of foam, water and obstacles placed at every kilometre completed throughout the untimed 5km run.
The run was inaugurated with a selfie taken by the Vice President of the Maldives, His Excellency, Faisal Naseem, Hon. Minister of Environment Climate change and Technology, Aminath Shauna, Ooredoo Maldives Managing Director & Chief Executive Officer, Khalid Al-Hamadi and Ooredoo Maldives Chief Commercial Officer, Hussain Niyaz with the fun runners.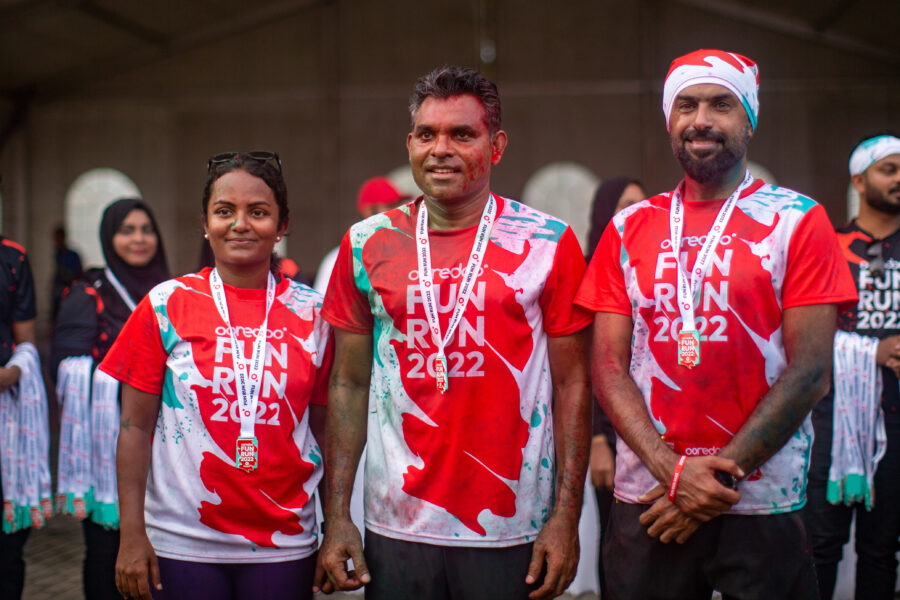 Managing Director & Chief Executive Officer of Ooredoo Maldives, Khalid Al- Hamadi said: "Ooredoo Fun Run was a perfect ending to the year 2022. This annual fun run is hosted to end the year and engage with our communities with some fun and exciting activities. This year's run is the first physical run held by Ooredoo Maldives post-pandemic and we couldn't be happier with the participation, excitement and energy we received from the participants. It was absolutely wonderful to see people of all ages enjoying themselves with their loved ones."
Ooredoo Fun Run aims to promote running as a fun way to maintain a healthy and active lifestyle. As an untimed and fun-filled 5K, the event welcomed both new and experienced runners to join in the excitement. Each kilometre covered was celebrated with a unique fun station with colours, and fun obstacles ending with a water fountain and a foam party. While the participants of Ooredoo Fun Run completed their run, Social Media was flooded with exciting photos of their run moments, medals and celebration with the foam party held for the finishers. 
Ooredoo states that it is excited to host the second edition of the Ooredoo Fun Run next year and also expand the run to the regions in the coming years to enable more people to be a part of this exciting event.