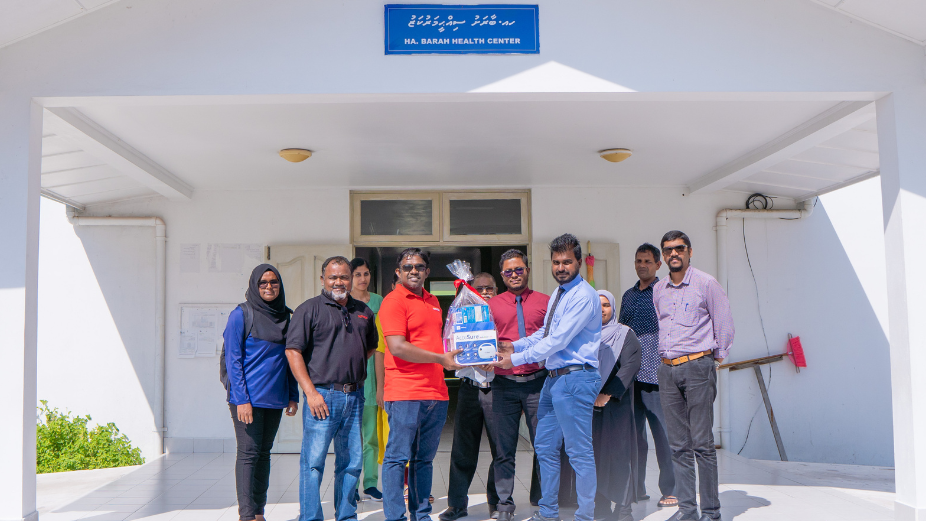 Ooredoo Maldives has donated essential health kits to 28 health centers in its efforts to support good health across communities. Health centers that received the donation include all of the centers in HA. and HDh. Atoll, B. Kudarikilu Health Center, K. Thulusdhoo Health Center, and ADh. Maamigili Health Center.
The donation was initiated earlier this year as part of its commitment to promote good health in line with the United Nations Sustainable Development Goals ("Global Goals"). The health kits include essential equipment, stethoscope, digital sphygmomanometer, pulse oximeter, otoscope, digital thermometer, and nebulizer machine.
"We believe that access to quality essential health care for each and everyone is extremely important. Understanding the need for updated digital essential equipment to health centers across the nation, it is our utmost delight to donate these kits and enable the health centers to provide quality healthcare to its people. We have now provided health kits to 28 health centers including all health centers in HA. And HDh atoll. We are committed to continuing this initiative and providing health kits to all health centers across the nation," stated Ooredoo Maldives Chief Commercial Officer, Hussain Niyaz.
Due to the amplified urgency and importance of maintaining good health and wellness post-pandemic, Ooredoo Maldives committed to support and promote Health and Wellness as its CSR focus for the year 2022. Ooredoo Maldives continues to extend its support to councils, recreational clubs and sponsored several tournaments across the nation to promote and encourage our communities to take on a healthier lifestyle. Every year since 2017, Ooredoo Color Run remains the biggest event where people of all ages participates in 5km fun run that permeates the importance of staying active. This year, under its "Upgrade Your World" group wide campaign, Ooredoo Maldives upgraded Ooredoo Color Run to Ooredoo Fun Run as the happiest 5k run incorporating fun obstacles, water and foam in addition to color throws at each 1 km stations. This upgrade was made to make the run even more fun and to encourage more people to participate.
As a community-focused company, Ooredoo Maldives has remained a close partner and enabler connecting the people to quality services, enabling access to necessary and important information, especially in times of crisis. Ooredoo Maldives has leveraged its platforms to spread awareness on the measures against outbreaks of preventable diseases such as dengue, measles, and many more.
Since the beginning of the pandemic, Ooredoo has continued to support the communities with digital solutions and relief measures. In addition to critical connectivity support, mass awareness on Covid-19 prevention and relief, as well as digital solutions which enable online education, health services and enterprises, together with Ooredoo Group, Ooredoo Maldives donated MVR 2,500,000.00 to the Government of the Maldives to acquire necessary equipment and supplies to combat the pandemic.
Ooredoo Maldives reaffirms its commitment to the people and will continue to enrich the lives of the people of Maldives with innovative solutions leveraging its platforms and resources.