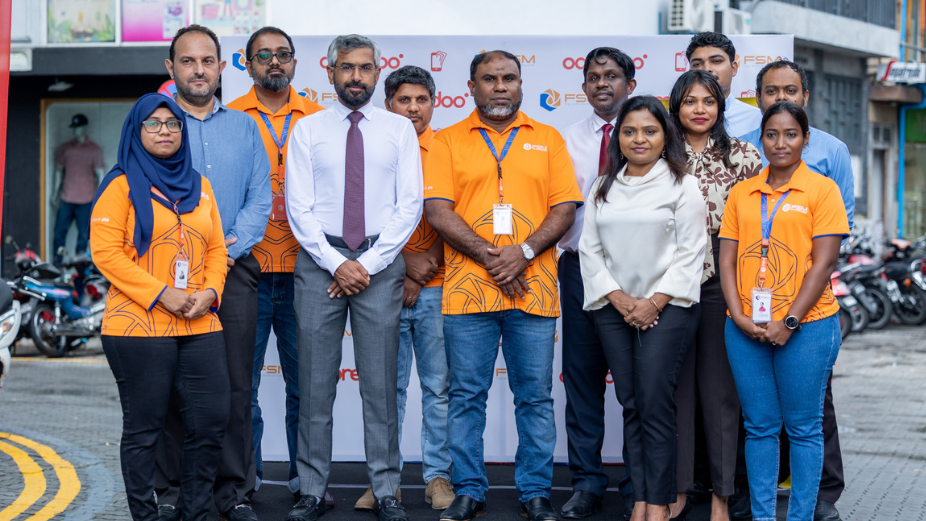 Ooredoo Maldives has announced its partnership with FSM to enable customers to easily pay for petrol via m-Faisaa at the FSM petrol sheds in Male' and Hulhumale'. Ooredoo enabled this digital payment service with the aim of providing a reliable, convenient and safe payment solution, where customers can simply scan the QR code via m-Faisaa placed at the petrol pumps and proceed with the payment with a few taps on their smartphone.
The service was launched at a special ceremony held at the FSM Petrol shed in front of Carnival by the Managing Director of FSM, Mohamed Gasam, Managing Director & Chief Executive Officer, Khalid Al-Hamadi and the management of Ooredoo Maldives and FSM.
"We are delighted to partner with FSM and enable customers to make contactless, fast and secure payments to FSM via m-Faisaa at the Petrol sheds across Male' and Hulhumale'. Today, we live in an era where we plan and carry out essential daily tasks through our smartphones. Ooredoo m-Faisaa digital wallet caters to this need by providing a convenient solution for people to make their payments from their smartphones with just a few taps. Our partnership with FSM is a great step towards empowering people and to further drive the adoption of digital financial services in the Maldives. Ooredoo will remain committed to enabling our communities with innovative services which will greatly enrich the lives of our people as well as boost the digital economy of the Maldives," said Ooredoo Maldives Managing Director & Chief Executive Officer, Khalid Al-Hamadi.
"The company's vision is to provide innovative, fast and easy services at the FSM fuel sheds to our customers. The launch of Ooredoo Maldives m-Faisaa service today will be of great convenience for many customers who ues the m-Faisaa service and the FSM fuel sheds. Today we have launched the service in Male' and Hulhumale' and together with Ooredoo Maldives we are working on launching the service in fuel sheds stationed in GDh. Thinadhoo, Gn. Fuvahmulah and S. Gan in a near future and enable easy payment solutions to our customers in the region," said Managing Director of FSM, Mr. Mohamed Gasam.
M-Faisaa customers can now cash into their digital wallets online via BML, SBI, MIB and through m-Faisaa agents. Ooredoo welcomes customers of all networks to register to m-Faisaa on Ooredoo App and enjoy all of its services such as utility bill payments and money transfers on the app and via Viber as well as to enjoy its special offers when making payments to its partnered merchants.