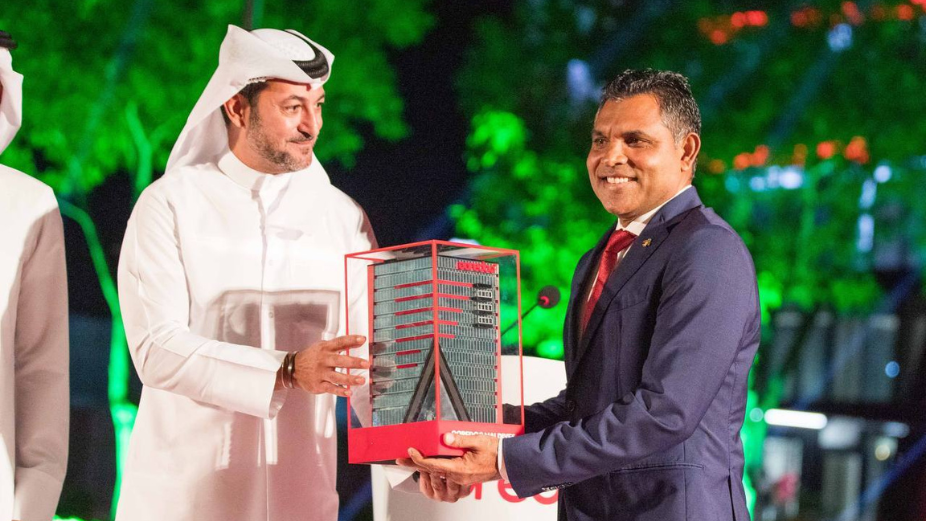 Ooredoo Maldives officially inaugurated its state-of-the-art Ooredoo Maldives Head Quarters last night.
The 11-story building houses an Ooredoo Experience Centre and a Club Premier Lounge, offering customers access to a wide range of services.
The inauguration moment was initiated by His Excellency Vice President of the Maldives, Mr. Faisal Naseem and the Managing Director and CEO of Ooredoo Group, Mr. Aziz Al-Uthman Fakhroo, who lit up the building with a fire curtain and a mesmerizing fireworks display. Cabinet Ministers of the Maldives, Chairperson of Ooredoo Maldives, Fatima Al Kuwari and the Managing Director & CEO of Ooredoo Maldives, Khalid Al Hamadi along with other dignitaries also graced their presence at this special event.
"Ooredoo Maldives has been a pillar in our telecommunications sector for the past 18 years. Their team's dedication and hard work have not gone unnoticed; their contributions are invaluable. They have achieved numerous milestones, including launching the first 4G network in the Maldives, introducing innovative digital services, and supporting social and environmental causes. I commend their efforts in offering affordable and high-quality products and services, enhancing connectivity and digital inclusion, and contributing to the Maldives' economic development and digital transformation. I am confident that Ooredoo Group, Ooredoo Maldives, and their team will continue to provide exemplary services to their customers in the Maldives." His Excellency, Vice President of the Maldives, Faisal Naseem
"The Maldives holds a special place in the heart of Ooredoo Group. This new headquarters is a testament to our deep-rooted commitment and strategic investments in this remarkable nation. It signifies our unwavering belief in the potential of this nation and our dedication to fostering digitalization. We remain committed to bringing world-class technologies, drive progress, and contribute to the Maldives' digital future. We extend our sincere gratitude to our partners and stakeholders who have played a pivotal role in our journey here in this beautiful nation." Managing Director & CEO of Ooredoo Group, Aziz Al-Uthman Fakhroo.
"The new Ooredoo Maldives Head Quarters symbolizes the achievements and milestones of the past 18 years, made possible by our incredible team. It represents our journey of progress, our partnership with the Maldivian people, and our unwavering commitment to move forward, creating a brighter, more connected future. I would like to congratulate the Ooredoo Maldives Family for their dedication and passion in delivering exceptional services, and our customers and partners for their unwavering support throughout the years." Managing Director & CEO of Ooredoo Maldives, Khalid Al Hamadi.
Located at the heart of Hulhumale', the new building features state-of-the-art facilities and cutting-edge technology to provide its employees with a comfortable and safe work environment that facilitates productivity, technological advancements and growth. The modern design building consists of high-performance office spaces, and modern amenities such as entertainment areas, meeting rooms, a special area for kids, a gym facility, and more. 
The building also boasts a number of environmental sustainability features, including a unitized curtain wall with Heat-soaked laminated tempered glass and low-emission coatings to reduce heat transmission and save power consumption. The building also features a fresh air supply system, lighting management system, solar panels, and rainwater harvesting to save water costs. Moreover, the usage of fire-rated doors, fire-rated glass and automated fire safety systems ensures the maximum safety of the people utilizing the building.
The inauguration of the new headquarters marks 18 years of dedication, innovation, and partnership with the Maldivian people. Ooredoo Maldives reaffirms its commitment to the people of the Maldives, pledging to continue its mission of enriching lives through digitalization.