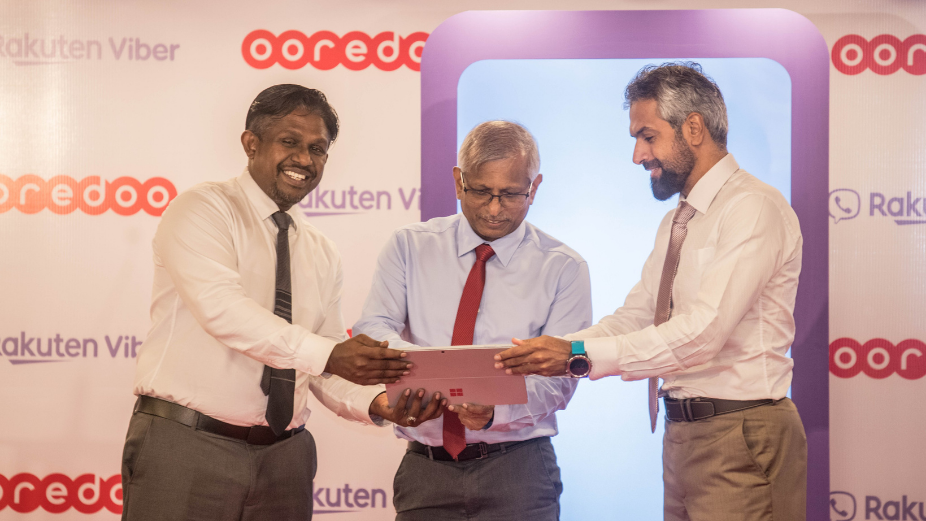 Ooredoo Maldives has announced its partnership with Rakuten Viber to enable customers in the Maldives to easily send and receive money transfers on the world's leading messaging platform, Viber via m-Faisaa. Ooredoo has enabled this innovative service with the aim of providing a reliable, convenient aand safe money transfer solution for individual customers and small business owners of online shops, small café's and corner shops.
As a special offer, the first 1000 customers who send money on Viber via m-Faisaa will receive a MVR 25 cashback to their m-Faisaa wallets. Customers who have made a minimum cash-in of MVR 500 with a Silver or Gold wallet will be eligible for this special offer.
Viber platform is a widely used messaging platform in the local community which is not only utilized to connect with friends and family, it is also a platform where small businesses get in touch with their customers to exchange bill payment slips shared by the customer. However, with the increased usage of online services and innovative technology, scams and forged transaction slips have become a serious major issue. Ooredoo's partnership with Rakuten Viber to enable money transfer via m-Faisaa ensures security and reliability without having to share their personal information or account details. Once the customer successfully makes a transfer, the system auto generates instant confirmation to the sender as well as the receiver, which helps eliminate the risk of transaction receipts getting tampered with. Additionally, users also enjoy the convenience and advantage of the chat extension, which enables payments within the one-on-one chat between buyer and seller, no need for the user to leave the app.
"We are super excited with our partnership with Rakuten Viber to enable this innovative payment solution via m-Faisaa and provide our customers a sense of security and convenience. Viber being a widely used platform in our community, this partnership will accelerate the digital adoption and the use of digital financial platforms. Ooredoo Maldives continues to remain committed to the people of the Maldives and will continue to bring innovative solutions to connect our communities to greater heights" Ooredoo Maldives Managing Director & Chief Executive Officer, Khalid Al-Hamadi.
"We are extremely proud of this partnership with Ooredoo Maldives. This is a good example of Viber's determination to move forward as an all-in-one app. Beyond call and messaging, Viber is a platform that enables its users to conveniently perform these payment transactions without having to worry about their security and privacy being compromised. Data privacy and security will always be Viber's guiding principle and we are committed to champion that for our users, who are always at the forefront of our developments," said David Tse, Rakuten Viber Senior Director for APAC.
To send money on Viber via m-Faisaa:
Open Viber Chat
Select m-Faisaa under GIF+
Select Send Money
Enter your mPin
Enter receiver number, amount and confirm payment
Select Share the receipt
M-Faisaa customers can now cash in to their digital wallets online via BML, SBI, MIB and through m-Faisaa agents. Ooredoo welcomes customers of all networks to register to m-Faisaa on Ooredoo App and enjoy all of its services such as utility bill payments, money transfers on App and via Viber as well as to enjoy its special offers when making payment to its partnered merchants.