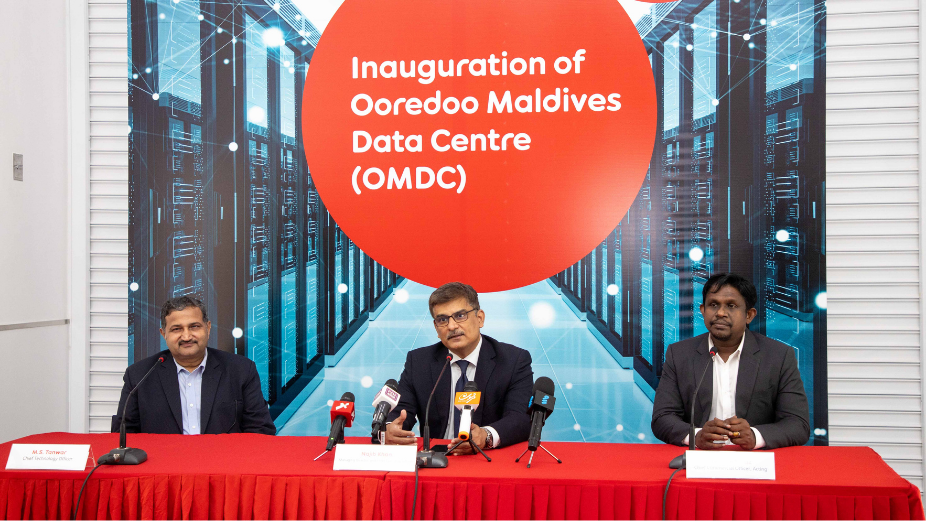 Ooredoo Maldives has launched the first-ever tier-3 ready Data Centre in the Maldives, providing unparalleled connectivity, storage, security and support systems for IT-based services and operations, designed to provide reliability and safety for all types of customer segments.  Located in the emerging smart city of Hulhumale', Ooredoo Maldives Data Centre (OMDC) is a world-class-state-of-the-art Data Centre that anticipates bolstering a quick and easy transition to new technologies supporting Maldivian and regional businesses from across government, corporate and the hospitality sector. 
Digital revolution across the globe has rapidly transformed the way we live today. The global business community, from SME's to large corporations, has become exceedingly data-driven and dependent on digital services, making the IT infrastructure of the institutions vital for operations. Technological advancements such as virtualization and cloud computing in the data hosting market are anticipated to be an indication of the maturity, transformation, and growth of the business. However, to build an on-premise data centre infrastructure companies will have to commit large amounts of investments, coupled with high maintenance costs. Hence global data centre services as OMDC play a crucial role in powering this growing demand for cloud services across enterprises.
Najib Khan, Managing Director and CEO, Ooredoo Maldives said: "Today marks a historical day for Ooredoo Maldives, as we inaugurate the first ever Data Centre in the Maldives. The global data centre services market is foreseen to attract tremendous growth in the near future. The growing requirement of large computing facilities and surging demand for capacity management are envisaged to bring in a host of opportunities for data center services. We believe that the Maldives can potentially offer very high availability for all types of Data Centre services, connecting local and regional businesses to uninterrupted connectivity and unlimited possibilities by eliminating geographical challenges, ensuring business continuity and stable growth. With this important step towards a truly Digital Maldives, our aim is to establish Maldives as a technological hub in the region."
OMDC is a tier 3 certification ready data centre, offering a wide portfolio of services, large amounts of storage space, 24/7 physical and network security, disaster management capabilities, superior power backup, high-end heating, ventilation and air conditioning systems. The facility also provides a rack space of medium & high density, with a capability of supporting offshore hosting requests which enables businesses outside the country to host their servers in the Maldives
Ooredoo Maldives Data Centre Services:
Data Centre Colocation

Full Rack or Shared Rack Space
Rated power & Cooling
Remote Hands Support

Data Centre Managed Hosting
Dedicated Utility Hosting
Disaster Recovery & Backup
Managed Infrastructure Monitoring
The infrastructure of this new state-of-the-art data centre is designed to provide customers the safest possible environment with flood resistance of up to 7 meters along with state-of-the-art fire detection systems. The facility is housed with critical electrical diesel power generators which can sustain an uninterrupted backup power that can seamlessly operate for 14 days without human intervention.
The centre features modern environmental monitoring and control systems, Water Leakage Detection System and round the clock digital and physical monitoring system that would provide comfort and peace of mind to customers who can be assured that their critical data and infrastructure is monitored and protected 24/7. The high growth rate of data generation, growing internet of things (IoT) connected device's usage, huge growth in automation across different industry verticals and higher demand for data security are some of the trends which are expected to offer unique growth opportunities for the data centre services market.
OMDC also consist of a demo room to experience the wide range of products designed by the company for enterprise customers which include Centribiz- a simplified managed telephony solution, CloudPBX, PBX Solution, IPTV Solutions, Satellite Phone, VLD FleetOne Solution, 5G AirFibre, Guesthouse Broadband, HCM HR Solution and more, prior to their subscription of the services.
Ooredoo Maldives has always remained at the country's digital forefront in bringing world-class technology and connecting the people of the Maldives to innovations and new opportunities. The launch of this world-class Data Centre in the Maldives further strengthens the nation's digital ecosystem powering a hub for global companies across a number of industries to host their servers in the Maldives which will ultimately boost the digital economy of the Maldives.