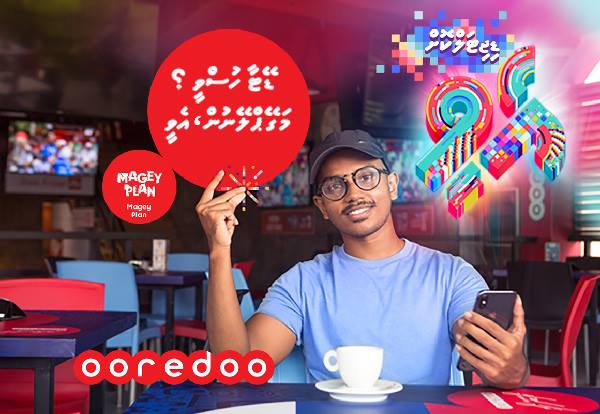 Ooredoo Maldives has launched 'E'vee' campaign, to showcase their innovative digital customer experience platforms.
E'vee focuses on creating awareness on the conveniences provided by these digital platforms, to promote usage and increase its benefits. The campaign shows how Ooredoo's digital platforms can be used to simplify everyday tasks, which goes in line with Ooredoo's aim to bring a digital Maldives.
The telecom giant's E'vee campaign focuses on Ooredoo's 4 most popular and easy-to-use platforms:
My Ooredoo App: Allows customers to view, subscribe and manage all services at their convenience, from anywhere and anytime.
Magey Plan: A digital self-case subscription creation platform giving customers complete freedom to create customized mobile packs for voice, SMS and data, as per customer needs.
Ooredoo Next: Allows mobile users in Maldives to easily engage with Ooredoo inside social media channels such as Viber, Facebook Messenger and checks best offers, best data add-ons or manage their Ooredoo services using real-time automated answers.
m-Faisaa: A digital wallet that allows cash deposits, withdrawals, transfers and merchant payments from anywhere at any time.
"'E'vee' reinforces our brand promise to enrich people's digital lives through new technologies and innovative new services. Ooredoo's digital customer experience platforms allow us to reach out to customers who are spread across a highly dispersed nation, and ensure that our products and services are both accessible and easy to manage. We will continue to invest in digital technologies that will enable new opportunities and conveniences for the people in Maldives," Najib Khan, CEO of Ooredoo Maldives stated regarding the new campaign.