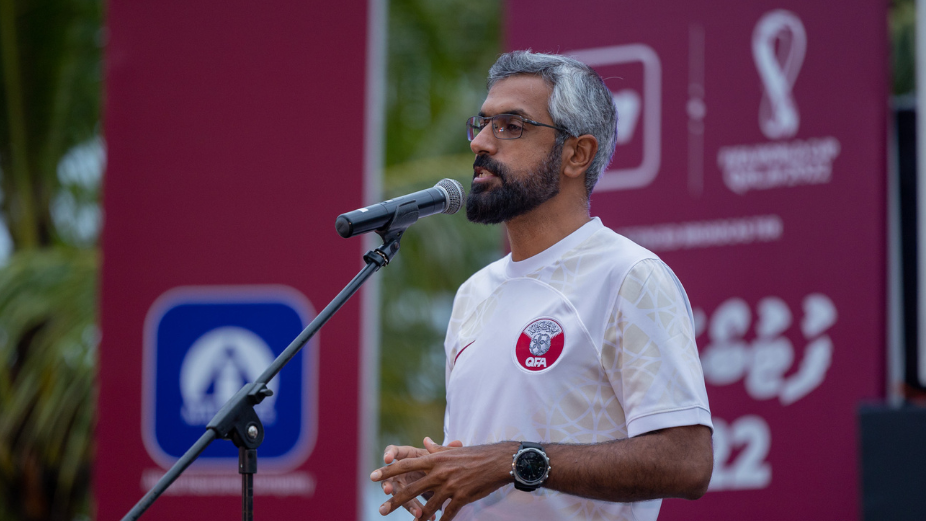 Ooredoo Maldives has officially launched 213 Ooredoo Fan Zones across the nation including all inhabited islands.
The official launch ceremony was held yesterday at Artificial Beach by Ooredoo Maldives Managing Director & CEO, Khalid Al Hamadi in the presence of Medianet Head of World Cup Project, Zihuny Rasheed, CEO of Maldives Islamic Bank, Mufaddal Idris Khumri, General Manager of Allied Insurance Company, Ibrahim Firushan, along with the partners of Ooredoo Football Foari campaign.
Fan Zones were established in partnership with Medianet, Maldives Islamic Bank, Allied Insurance Company, Male' City Council, major cafés, island councils and youth empowerment NGOs across the nation to enhance the FIFA World Cup Qatar 2022 experience and provide a space for the people to enjoy the matches and other activities together with their friends and family. During the launch event, Ooredoo Maldives ambassador Habeys Boduberu also performed the Ooredoo Football Foari official song – the Dhivehi version of Arhbo – live at the event.
To watch the video, visit: https://youtu.be/ShKMwOvQtlY
In addition to Ooredoo Fan Zones, Ooredoo Maldives has also launched special offers including World Cup Pack offering 100GB Data along with a FREE 30-day subscription to Medianet App for just MVR 250. Football fans can also participate in the Ooredoo Football Foari league on the local Guess the Score App – Goalr and stand the chance to win exciting prizes from Sea Gear and Crossroads Maldives. To download Goalr App, visit: http://ore.do/goalr
In line with Ooredoo Maldives' vision to enrich the lives of the community, Ooredoo Maldives remains committed to enabling access and enhancing experience. Ooredoo Maldives wishes everyone an enjoyable football festive during the FIFA World Cup Qatar 2022.
For more information on Ooredoo Football Foari offers, visit: http://ore.do/footballfoari