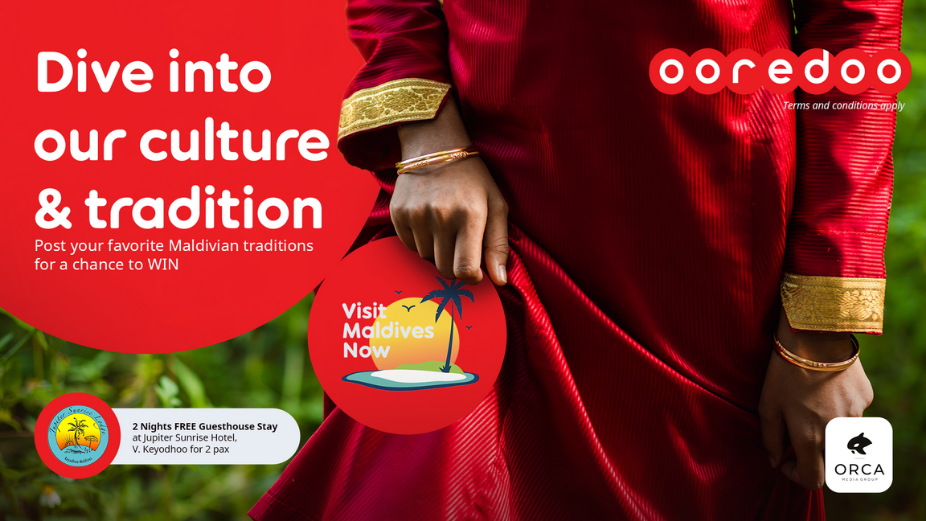 In September 2020, Ooredoo Maldives together with Maldives Marketing and Public Relations Corporation (MMPRC), Tourism Ministry and Orca Media Group, launched a destination marketing campaign "Visit Maldives Now" reaching its international network of over 117 million people across 10 countries. As part of this destination marketing campaign, Ooredoo Maldives and Orca Media Group are launching a social media contest inviting everyone to share their favourite parts of the Maldives with the world & win fun stays at guesthouses.to boost destination visibility and encourage the world to #VisitMaldivesNow. Participants can enter by sharing photos or videos from across the country that reflect the given theme of the month, along with the hashtag #VisitMaldivesNow.
"Across the globe, Ooredoo continues to utilize its strengths and resources to benefit the communities within which we exist. The impact of the global pandemic on the local tourism sector has been felt by families across the nation, and we are honored to continue efforts to restore the tourism industry in the Maldives and thus the livelihood of many, with this exciting social media contest that will promote this beautiful country." said Hussain Niyaz, Chief Commercial Officer of Ooredoo Maldives.
The campaign will start on 15th August and will run for 5 months till December 2021, with specified themes and special prizes designated for each month. Each photo or video will be considered as a separate entry. Hence, participants can enter more than once to increase their chances of winning. A winner will be selected monthly via a lucky draw.
The first theme for the contest centers around Maldivian culture and traditions, including local traditions, food, arts and crafts, history, and heritage. The winner will receive a 2-nights FREE holiday at Jupiter Sunrise Hotel in Vaavu Keyodhoo for two people.
The main aim of the #VisitMaldivesNow social media campaign is to create awareness and showcase the hidden beauty of our island nation, creating user-generated content that will enable prospective travelers to view Maldives through the lens of a local.
To find out more, keep up with Ooredoo Maldives on its social media platforms.